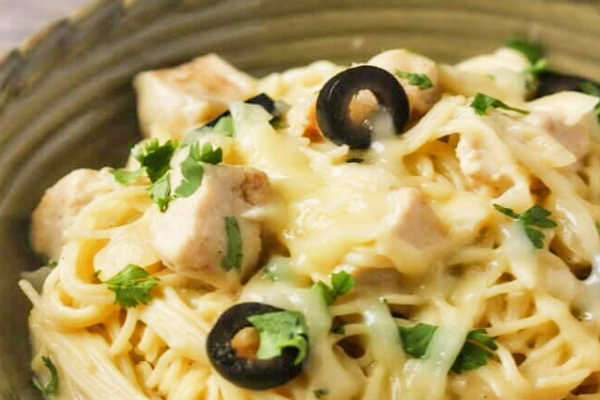 White Chicken Enchilada Pasta Recipe!
Want a different take on enchiladas tonight? If so, why not try this White Chicken Enchilada Pasta recipe! I haven't tried this yet, but this dish looks yummy. Plus, chicken and cheese is a genius combination. If you'd like to try this recipe as well, be sure to pick up the following ingredients:
12 oz. angel hair pasta
1 tbsp olive oil
2 tbsp butter
1 medium onion, chopped
1 (4 oz.) can green chilies
1 tsp creole seasoning
2 tbsp all purpose flour
1 (14.5 oz.) can chicken broth
2 chicken breasts, cut into 1 inch pieces
1/2 cup sour cream
1 1/2 cups (8 oz.) shredded Jack cheese
Optional toppings: sliced black olives, chopped cilantro
For additional directions on making this recipe, be sure to visit the Julie Seats And Treats Webpage for more. Let us know what dishes you've tried recently, we'd love to know in the comments below.
Anything to Add? Leave a Comment!