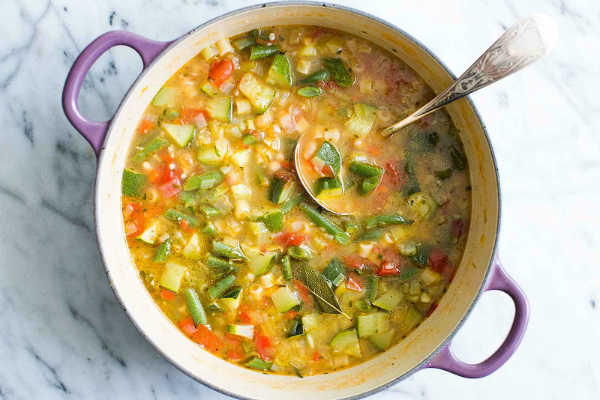 Summer Minestrone Soup Recipe!
During the summer, I love eating fresh greens from the garden! Even without fresh greens, I love making soup with veggies. What about you? I recently tried this Summer Minestrone Soup and it was delicious.  My husband can be picky, but he ate three bowls! Want to make this soup as well? If so, you'll need the following ingredients:
1 Tbsp olive oil
1/2 cup diced onion (about 1/2 onion)
1/2 cup sliced leeks, white and light green parts
1/2 cup diced celery (about one celery rib)
1/4 cup diced red bell pepper (about 1/4 of one bell pepper)
3 cloves garlic, minced (about 1 Tbsp)
6 cups chicken stock (can use good quality vegetable stock for vegetarian option)
1 bay leaf
1 teaspoon fresh thyme leaves (or 1/2 teaspoon dried thyme)
1 teaspoon kosher salt (add more salt if using unsalted stock)
2 cups large dice zucchini (or other summer squash such as crookneck or pattypan)
1 cup fresh green beans, trimmed and cut into 1-inch lengths
2 roma tomatoes, diced
1/2 cup cooked small white beans
1/2 cup dry ditalini or any small pasta (omit for gluten-free option)
Fresh basil for garnish
Grated Parmesan cheese for garnish (optional)
For additional directions on making this soup, be sure to visit the Simply Recipes Webpage for more details. Let us know what you thought of this recipe in the comment section below, because we'd love to know.
Anything to Add? Leave a Comment!