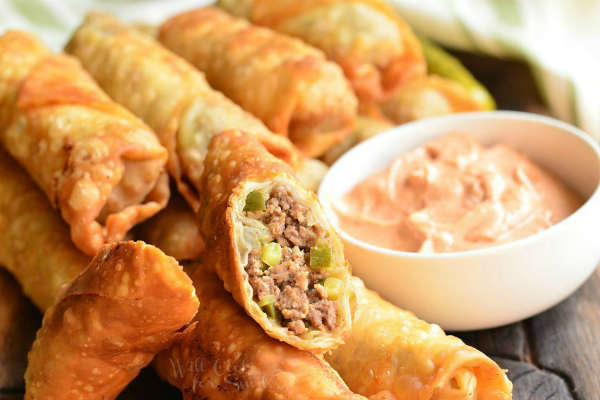 Cheeseburger Egg Roll Recipe!
My husband absolutely loves cheeseburgers! If you are like him, then you must check out this Cheeseburger Egg Roll dish, because you'll love it! This is a great spin on the traditional egg roll recipe. Even my kids enjoyed these yummy cheeseburger egg rolls and they can be picky eaters. Want to make this recipe as well? If so, be sure to pick up the following ingredients:
1 lb ground beef
½ medium yellow onion, minced
1 Tbsp vegetable oil for cooking
Salt and fresh cracked black pepper
5 slices American cheese
½ cup diced pickles
13-14 egg roll wrappers
1 egg white
Oil for frying
Sauce:
¼ cup mayo
1 Tbsp tomato paste
1 garlic clove, pressed
1 tsp paprika
Salt and fresh cracked black pepper
For further instruction on making this dish, be sure to visit the 36th Avenue Webpage for more details. Let us know what you thought of these Cheeseburger Egg Rolls in the comment section below. We'd love to know!
Anything to Add? Leave a Comment!