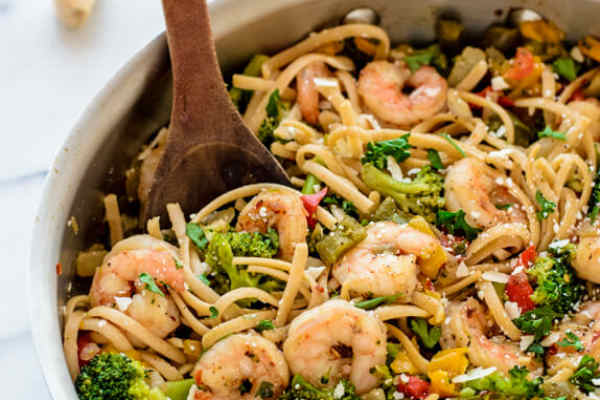 Healthy Garlic Shrimp Pasta Recipe!
Need some more healthy recipes to make this summer instead of eating out? I know that I do! You must try this Healthy Garlic Shrimp Pasta dish, because it's yummy and very filling. I recently made this dish for dinner and my husband loved it. Plus, he loves eating shrimp. Do you like seafood pasta recipes as well? If so, be sure to pick up the following ingredients:
12 ounces whole-wheat linguine or similar thin pasta noodles
2 tablespoons extra virgin olive oil, divided
1 shallot, peeled and diced
3 cloves garlic, minced
1 pound fresh or frozen raw shrimp, peeled, tails removed, and patted dry (if frozen, thaw in the refrigerator overnight before using)
1 teaspoon crushed red pepper flakes, divided (use less if sensitive to spice)
1 teaspoon kosher salt, divided
1 teaspoon black pepper, divided
12 ounces frozen broccoli, thawed and drained
16 ounces frozen mixed vegetables of your choice, thawed and drained
1/4 cup dry white wine, such as Sauvignon Blanc
Zest and juice of 1 large or 2 small lemons
Chopped fresh parsley, for garnish
Freshly grated Parmesan cheese, for garnish
For further directions on making this Healthy Garlic Shrimp Pasta recipe, be sure to visit the Well Plated Webpage for more details. Let us know what you thought of this recipe, because we love to hear from our readers.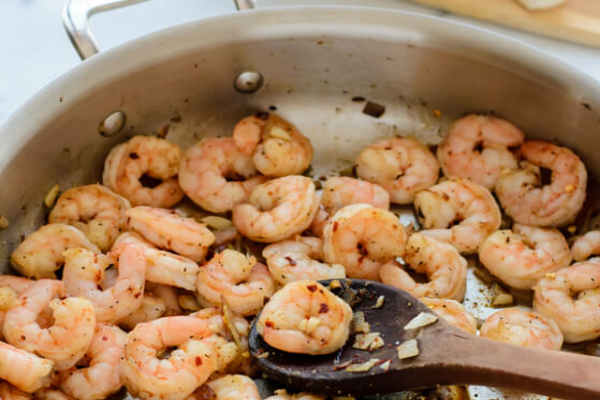 Anything to Add? Leave a Comment!