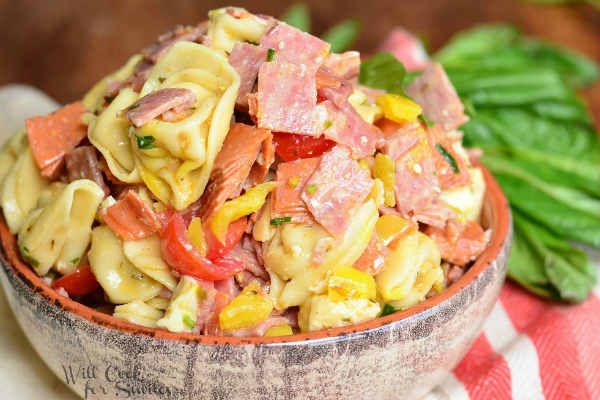 Italian Tortellini Salad Recipe!
Need to make a dish for your next barbecue or special event? If so, you must try this Italian Tortellini Salad recipe! This salad is both delicious and easy to make, wohoo. Even my kids love this tortellini salad recipe, which is great for our family. Are you wanting to make this tortellini dish as well? If so, here are the ingredients you'll need to purchase or pick up:
Salad:
1 lb 4 oz three cheese tortellini
10 oz cherry tomatoes, cut in half
⅔ cup banana peppers, chopped
¼ lb capicola ham, chopped
¼ lb pepperoni, chopped
⅓ lb hard salami, chipped
8 oz fresh mozzarella cheese, chopped
2 Tbsp minced Italian parsley
6-8 basil leaves, minced
Salt
Dressing:
½ cup virgin olive oil
2 Tbsp white balsamic vinegar (white wine vinegar can be substituted)
1 Tbsp fresh lemon juice
3 garlic cloves, pressed
Salt
¼ (or ½ is desired) tsp crushed red pepper flakes
2 tsp dry herb de provence
For additional directions on making this recipe, be sure to visit the Italian Tortellini Salad Recipe! Have you tried a similar recipe before? If so, what did you think? Be sure to let us know in the comment section below.
Anything to Add? Leave a Comment!