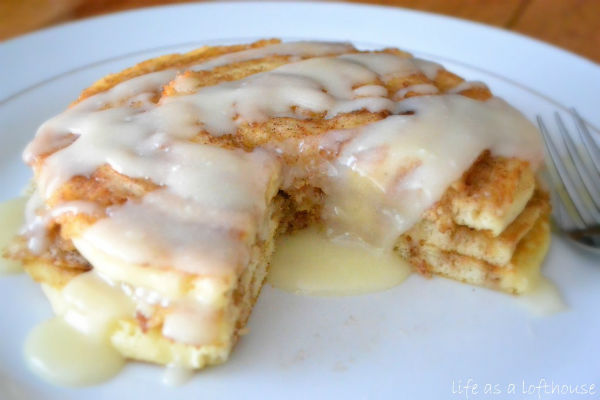 Cinnamon Roll Pancakes Recipe! So Yummy!
Want a new take on pancakes this weekend? If so, then you must try these Cinnamon Roll Pancakes for breakfast! My family enjoyed this dish greatly and yours will too. What could be better then a combination of a cinnamon roll and pancake? Want to make this as well? If so, here are the ingredients that you will need:
Pancakes:
1 cup all-purpose flour
2 teaspoons baking powder
1/2 teaspoon salt
1 cup milk
1 Tablespoon canola oil
1 large egg, lightly beaten
(OR use a boxed pancake batter)
Cinnamon Filling:
1/2 cup butter, melted
3/4 cup packed brown sugar
1 Tablespoon ground cinnamon
Cream Cheese Glaze:
4 Tablespoons butter
2 ounces cream cheese
1 1/4 cups powdered sugar
1 teaspoon vanilla extract
For additional direction on how to make this recipe, be sure to visit the Life In The Lofthouse Webpage! Let us know what you thought of these yummy pancakes in the comments below. We love to hear from our readers!
Anything to Add? Leave a Comment!