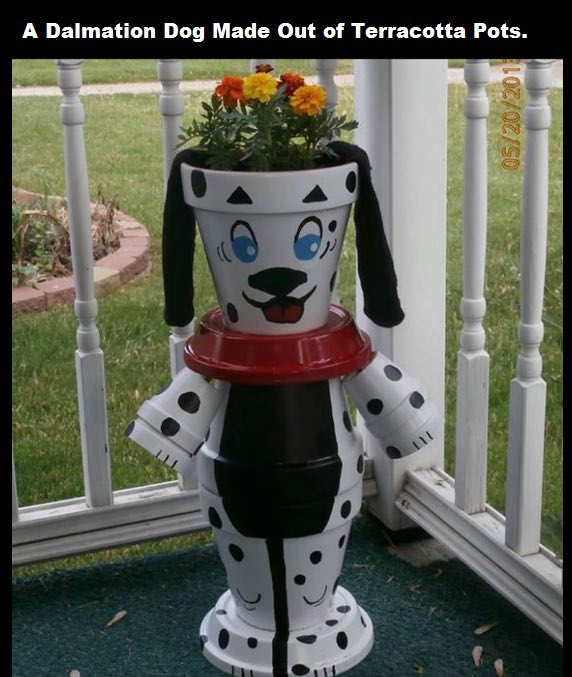 Dalmatians are iconic for their appearance with and around firetrucks! Do you love dogs? If so then you are going to want to do this super fun and easy DIY Dalmatian made from terra cotta pots! Below you will find instructions on how to make your own!
List of supplies:
*3 large terra cotta pots (for head and body)
*3 large saucers (these normally catch run over water) (for collar and feet)
*4 medium terra cotta pots (for arms)
*rope (to hold arms on)
8super strong glue (I like gorilla glue)
*acrylic paint:
*white
*red
*black
*blue
*old black socks (for ears)
*dirt (for potting)
*some of your favorite flowers (for top)
Directions:
*paint the pots according to the picture above, or add your own designs 🙂 Remember you are making this for you, so keep it personal!
*Let paint completely dry before you start assembling him/her!
*glue the bottom of pot onto the feet.
*run a rope through the hole in the middle pot out to each arm and make a knot. tie off rope where you feel comfortable with arm length.
*glue the middle pot to the bottom pot and let that dry!
*once dry glue the collar on top of middle pot then glue the head onto the collar!
*add some dirt, attach ears (I used gorilla glue to attache to inside of pot), add more dirt and plant your flowers!!!
Its super easy and fun for everyone!! I can't wait to see what yours look like! Post your thoughts and finished products in the comments below!
For more DIY crafts click me 🙂
Anything to Add? Leave a Comment!