Bacon, Bacon, Bacon, Bacon!!! That is what the commercial says and that is what this post is about.  Always and forever bacon will be a crowd pleaser.  Here are a handful of recipes that are surely going to get the crowd amped for mealtime. Let me know if you have had these, or if you are going to try them. I'd love to know your feedback!! I can personally attest to the jalepeno poppers, and I'm dying to try.. well.. everything else!! Enjoy!!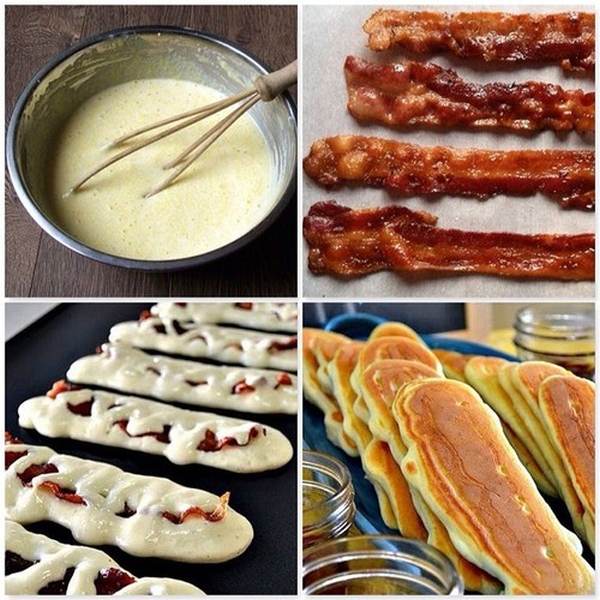 Bacon Pancakes Recipe
12 slices of bacon
2 cups prepared pancake batter (from a mix or from scratch)
softened butter
maple syrup
Here's a recommended recipe for making pancake batter from scratch.
Instructions:
Prepare the pancake batter with slightly less water or milk than instructed. A thicker batter will help prevent the pancakes from flowing into each other.
Set your griddle to medium-high.
Fry the bacon until crispy. Remove the bacon from the griddle and lay slices on stacked paper towels to remove excess grease (and to get more crispy).
Carefully, wipe down the griddle with wadded paper towels, leaving only a very thin layer of grease to cook the pancakes.
Return the cooked bacon to the griddle with at least two inches of space on both sides of the slices. (You'll probably have to work in two batches.)
Slowly pour batter over each bacon slice. After one minute, check the bottom side of the pancakes. Once browned, flip the pancakes and cook the other side to golden brown.
Serve immediately with softened butter and warm maple syrup.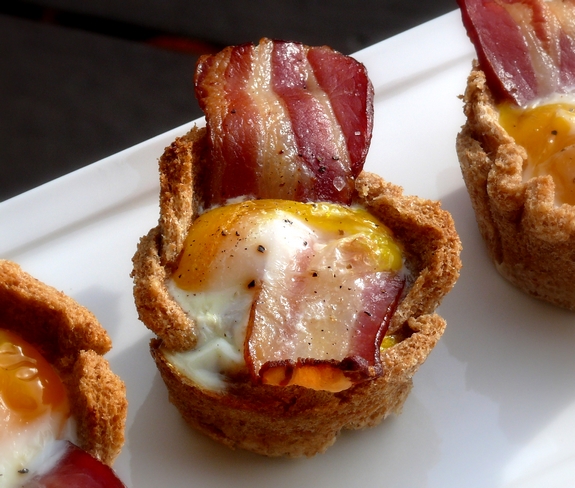 Bacon, Egg and Toast Cups
Serves 6 or more
Ingredients: 
Cooking spray
6 slices white or whole-wheat sandwich bread
1/4 cup butter, melted
6 slices bacon, preferably thick cut
6 large eggs
Coarse salt and fresh ground pepper
Instructions:
Preheat oven to 375o F. Spray 6 standard muffin cups with cooking spray.
With a rolling pin, flatten bread slices slightly and with a 4-1/4″ cookie cutter, cut into eight rounds. (Now, most of us don't have a cookie cutter that large.
Flatten your bread and place your largest round cutter on the bread and use as a guide to cut that size hole. 4-1/4″ is pretty much what a piece of sandwich bread will measure when flattened.
So, you are essentially cutting the largest round you can minus any crust.)
Cut each round in half, then press two halves into each muffin cup, overlapping slightly and making sure bread comes up to edge of cup.
Use extra bread to patch any gaps on bottom or sides.
Brush bread with melted butter.
In a large skillet, cook bacon over medium, until almost crisp (I cooked my bacon in the oven for 6 minutes on 375o F.)
The bacon will continue to cook in the oven.

Lay 1 bacon slice in each bread cup and crack an egg over each.

Season with salt and pepper. 

Place muffin tin on a rimmed cookie sheet to catch any bacon fat.

 

Bake until egg whites are just set, 20 to 25 minutes.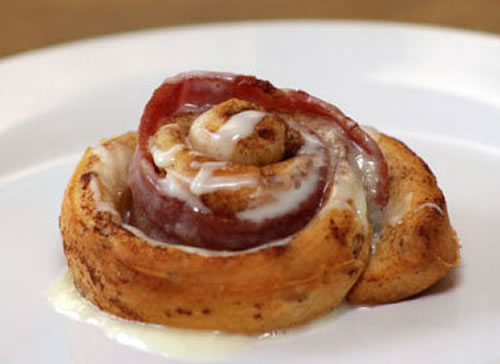 Bacon Cinnamon Rolls
Ingredients:
1 can Pillsbury™ Grands!™ cinnamon rolls with icing (5 count)
5 bacon strips
Instructions:
Preheat oven to 350°F.

Heat a skillet over medium-high heat. Place bacon strips in skillet and fry for 2-3 minutes until still soft but slightly cooked. Remove bacon and pat dry with paper towels.

Pop open the can of cinnamon rolls and unroll them into long strips. Lay one strip of bacon on each cinnamon roll strip, then roll them back up. Place each bacon roll in a greased pie pan.

Cook according to package instructions, then drizzle with icing from the package.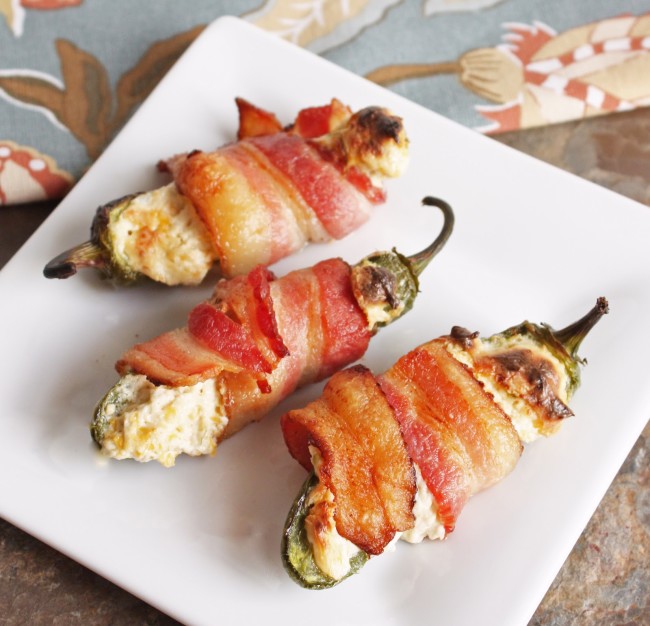 Bacon Wrapped Stuffed Jalepeno Poppers
Ingredients
9 jalapeno peppers
8 oz cream cheese, softened
¼ cup salsa verde
½ cup shredded cheddar cheese
9 slices bacon cut in half
 Instrutions
Cut the jalapenos in half and remove all of the seeds.
Combine the cream cheese, salsa verde and shredded cheddar in a small bowl. Once combined, add to a pastry bag or a sturdy 1 quart ziplock bag and cut off one corner so you can squeeze the cheese out of the hole and into the peppers. Fill the peppers with cheese mixture.
Meanwhile, cook the bacon in the microwave or saute pan for a few minutes until it's starting to brown a little but is still soft and pliable.
Cool and then wrap each jalapeno half in one piece of bacon. Secure with a toothpick. Place on a foil lined cookie sheet (with sides) and bake in a preheated 375 degree oven for 15 minutes.
Set the oven to broil and cook for 2-3 minutes, watching carefully to make sure they don't burn! This gives the peppers a nice roasty flavor and ensures that your bacon will be crisp.
Remove the jalapeno poppers from the oven and cool slightly before eating. Super low carb and soooo delicious!!!!
Anything to Add? Leave a Comment!