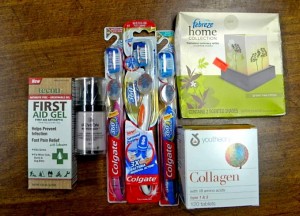 I went to CVS and Walgreens today to do the weekly deals. I skipped the Skintimate Gel for now as I read on another deal blog the Register Rewards aren't printing out and my Walgreens store took down those signs at both stores. I will hope it be resolved later this week. That is a great deal too so I hope it does get fixed soon.
I did find the Tecnu Ointment which is a nice freebie as it's a 2oz bottle. It was the second to last one and it was hiding behind the other stuff so almost like someone was trying to hide it. Luckily I'm tall enough to see in the back. I know that trick. 🙂 The Youtheory is in the supplement aisle and my store had plenty.
I will break down each store since I didn't do too much shopping as I'm pretty well stocked. I mostly wanted the free items. I spent a total of $9.44 today on 3 transactions and saved $44.61 so I rounded up to $45. That is a little over 80% in savings today! I am very happy and I could have saved an extra $2 at Walgreens but I still think I did very well under $10.
Here is my CVS Trip:
1 Revlon Photofinish Color Perfecting Primer for $12.49 (Cheapest I could find over $10 and I've been wanting to try it)
2 Colgate 360 Toothbrushes- $2.99 x2= 5.98
2 M&M Candies- $0.75 x2= $1.50
Subtotal- $19.97
CVS $3/10 Makeup purchase (always use your CVS $xx off $xx coupons first)
Revlon $2/1 makeup
$1 CVS any Toothbrush coupon
$0.75/2 Printable Mars candy
Subtotal- $13.22
$11 in ECB's for a grand total of $3.32 with tax!
I got back $8.75 in ECB's for my next purchase!
Walgreens Transaction #1 (I went to two different stores as they have different clearances)
Tecnu Ointment is $7.00
Glade shade refill 2pk for $2.49 (clearance aisle!!!)
Subtotal- $9.49
I had a $1/1 Right at home on glade refill
I used one $5 RR
Grand total was $4.25 with tax!
I got back a $7 RR!
I could have bought a filler item for under $1 to use that other $3 RR and saved an extra $2 but I wanted to wait for that other transaction.
Walgreens Transaction $2
Youtheory Tablets- $7.00
Colgate 360 Toothbrush- $3.99
No coupons
I used my $7 and $3 RR
Grand total was $1.87 with tax!
I received another $7 and $3 RR for a total of $10!!!
I went to Target last Friday and I also did the CVS and Walgreens deals from this past week. I just forgot to post about them. I didn't do quite as well, but I still saved about 50% off which makes me happy!
These are the Target deals but I didn't show the 2 Nabisco Triscuit and Wheat Thins Family Sized boxes I scored! They are on price cut for $3 each until June 6th! Use those $1/2 Nabsico printable coupons to make them $5 which is still the sale price for the boxes half the size!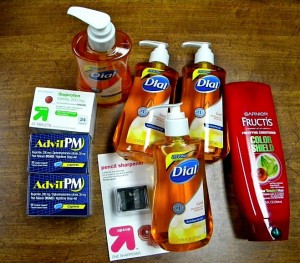 I had a $5 Target gift card from last week. I did it all in one transaction because I usually have my son and hubby and I just like to get out of there. I did the Advil PM deal, Garnier Conditioner for 94 cents, the Up & Up Asprin, Up & Up beauty tool, and the Dial hand soap. I went to the Super Target on Siegen Lane in Baton Rouge and was blown away! That place is HUGE!!! I could have stayed much longer and they had some great stuff on clearance. Most of I didn't have a coupon so no point in spending $3-4 on twin packs when I have so much stockpiled. I spent $11.xx with tax (their tax rate is so much higher than mine) and I got back another $5 Target card.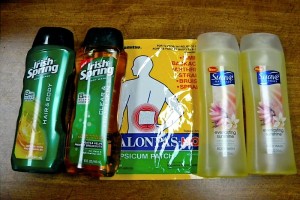 Here are the CVS items I bought on Saturday. I spent $6.73 with tax as I only had 2 50 cent coupons for the Suave. I also had 2 50 cent off coupons for the Irish Spring. After coupons and using $5 in ecb that was my total. I got back $6.00 because the heating  pad one didn't print and they printed me one but can't do odd numbers and only even so they rounded it up $2.00. I had the right product but it didn't print. Strange.
I don't have everything pictured that we bought at Walgreens on Saturday. I saved around 50% off. Not great but not terrible. I bought the two ThermaCare heating pads ($2 2/1 coupons), 2 toothbrushes (no coupons) 2 Fiber Plus bars ($1/2 coupon), 2 Haribo Gummy bears (2 $0.30/1 coupons), a couple of Starbucks mocha drinks on sale. Hubby loves them and we only buy them once in awhile as a treat. Since they were on sale why not. I know I used about $8 in RR. Total was $29.xx before coupons and grand total was $17.02 with tax. I got back a $5 RR and a $3 RR.  Not great but I got those heating pads for hubby especially the neck and shoulder as his job is very physically demanding.
I did much better today and my coupon stash is getting better and I just need to do more than one transaction to get lower out of pocket savings. I used to be able to get lots of stuff so cheap, but it's getting harder with some of these very low dollar amount on the coupons. I got that $1 off any toothbrush from the CVS machine. Always swipe your card at that machine. You never know what you will get.
Anything to Add? Leave a Comment!