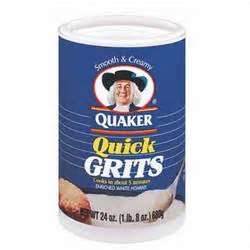 Today's thrify living tip is to use instant grits on ant hills. This really does work.
I only use this method on black ant hills. I am not sure about fire ants as we only get black ants in our yard!
It's safe for pets and kids plus it's non-toxic! So NO spraying poison around your yard!
Trust me in South Louisiana, we get a lot of black ant hills especially after lots of rain.
What happens is the worker ants will bring in the grits (thinking it's food) and feed it to the queen which then explodes in their systems.
The best way to use this method is to wait for a dry day, and when you are expecting rain sprinkle the instant grits around the ant hills. I do not sprinkle directly on top but just around the perimeter.
I say go for the cheap dollar store brand. I seriously doubt the name brand makes any difference except for in your pocket book!
Let me know if this method works for you!
Anything to Add? Leave a Comment!