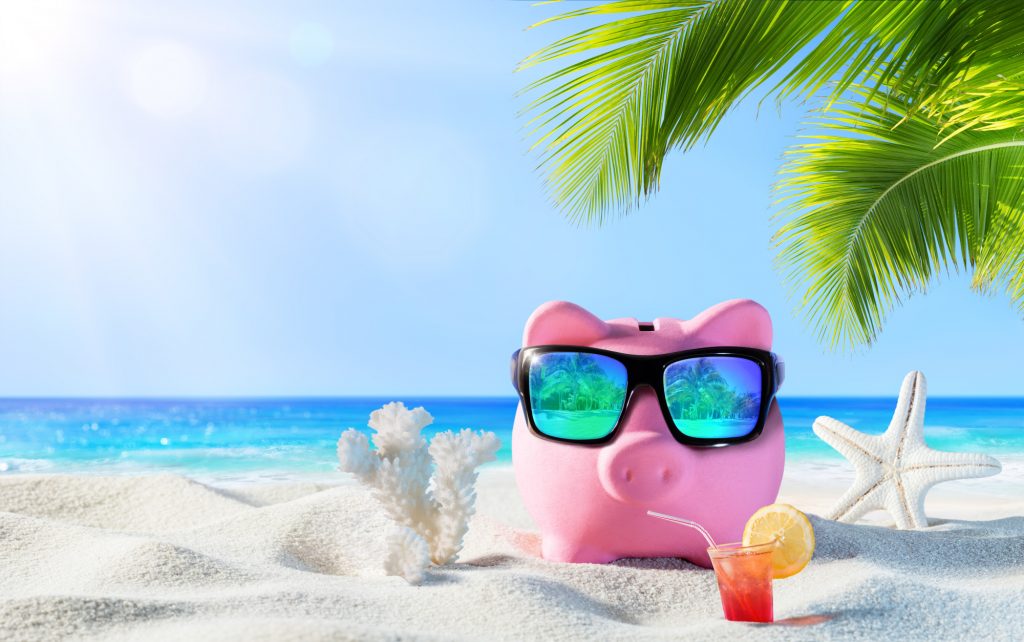 The average American spends around $6,080 on international trips every year. Anyone who lives in the "real world" and not on a yacht with Jeff Bezos somewhere in the South Pacific knows that isn't an insignificant sum.
There are so many benefits of traveling that justify the price. You get to escape reality for a while, have amazing adventures, and meet new people. 
But even though the reasons to travel are worth the cost, that doesn't mean figuring out how to save for a vacation is easy! 
Lucky for you, there are some travel hacks and money-saving tips you can learn that will help you afford your adventures. This ultimate guide has all the information you need.
Be Flexible With Dates and Destinations
The most expensive times to travel, domestic or international, are during school and public holidays. These are "peak" seasons.
Some destinations are more popular (and expensive) during these seasons. But you can save so much money going on a vacation if you travel in the shoulder seasons or off-seasons. 
For example, if you want to know how to save for a vacation to Greece, travel in the spring (April and May) or fall months (September and October). Thanks to Greece's climate, the weather will still be pleasant in the shoulder season but your travel costs will be cheaper than in summer.
You could save even more money by traveling somewhere less popular than Greece but with a similar climate, like Albania. Flights, accommodation, and on the ground costs would be cheaper than in Greece but you'd still have an amazing vacation.
Use the Best Resources To Find Deals
One of the best saving money for travel tips anyone could give you is to use the best travel resources. These are websites, aggregators, and travel agents that will make it easier for you to spend less on a vacation.
These websites will help you find cheaper flights:
Many of these sites have functions where you can search flight dates within whole months and leave the destination open. That way, you can pick the cheapest possible flights. Some also search for hotels and rental car options, too.
These websites will help you find cheaper hotel rooms:
HotelsCombined
Trivago
Agoda
TripAdvisor
Some of these are aggregator sites which means they search the price of the same hotel room across different hotel sites. Then, you can choose the cheapest.
If you prefer short-term house rentals, compare the prices on Airbnb and Vrbo, too.
Some people think that booking a vacation through a travel agent is more expensive than booking everything yourself. But some travel agents have industry connections and deals that you wouldn't have access to otherwise.
It's 100% worth consulting a Disney travel agent CT, bucket list travel agency, or all-inclusive agency to check their prices. You can always compare their prices to the ones you found in your research and choose the cheapest.
Learn About Points and Travel Hacking
Travel hacking is the process of earning credit card points and using them to pay for flights, accommodations, and travel upgrades. 
Many airlines and travel companies have affiliations with Chase, Capital One, and American Express. So, you could spend money on anything (TVs, groceries, gas, etc.) and that will convert into points.
There are specific rules and guidelines on how you earn the points and what you can spend them on depending on the credit card. Do your research, and only open a new credit card if you can afford the repayments.
But if you get savvy with hacking, you could end up spending close to $0 on flights, accommodation, and car rental!
Work Out Your Entire Vacation Cost
It's very difficult to know how to save for a vacation if you have no idea how much the trip will cost you.
Make a cup of coffee, clear your schedule, and spend an afternoon planning your trip. Take the following costs into consideration:
Visas/new passports
Flights
Transport to/from airports
Car rental/other transport
Accommodation
Food and drink
Activities and excursions
Ad hoc expenses (souvenirs, etc.)
You won't be able to come up with an accurate figure down to the penny, but you will have a rough estimate.
And if you know when you are going on vacation, you will be able to work backward and divide your total vacation cost by the number of months. So, if you need to save $3,000 in one year, you need to save $250 every month.
Set up a direct debit to a vacation savings account so you never see this money in your checking account. Then you won't get tempted to spend it!
Cut Back on Other Expenses
Does the monthly figure that you need to save for your vacation seem a little high? There are ways to cut back on other expenses to save more money.
Spoiler alert, it will mean depriving yourself of other things until your vacation.
Write a list of all the "outgoings" from your checking account in the last three months. Split them into a "must-have" list and a "nice-to-have" list.
Items on your must-have list are things like rent and groceries. And items on your nice-to-have list are things like entertainment, shopping, and subscriptions.
Cut down (or out) as many things on your "nice-to-have" list as possible.
There might be things you can cut from your "must-have" list too. Sure, you need to eat, but are there cheaper grocery stores you can shop at? And you might need a car to commute, but could you save money on gas by walking to some places?
Print out a picture of the destination you are visiting and attach it to your fridge. Remind yourself of what you are saving for so you don't give up.
Learning How To Save for a Vacation Is Worth It
When you're looking at a huge figure like $6,000, figuring out how to save for a vacation might seem impossible. But if you can cut down this figure and save a little every month, you'll be sipping cocktails by the pool before you know it. And all that scrimping and saving will be worth it.
Does the idea of earning more money for travel sound appealing? Our website has tons of cool tips to help you start a side hustle and make a bigger income!
Anything to Add? Leave a Comment!