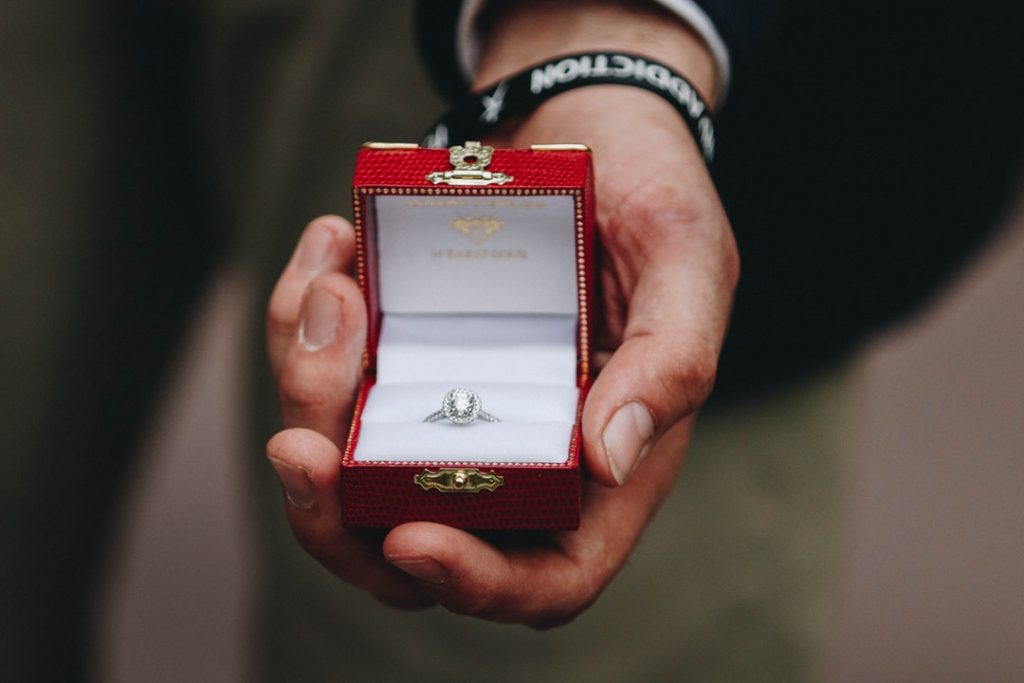 "Mawwiage. Mawwiage is what bwings us togeder today." Are you ready to pop the question?
Don't propose like Mr. Darcy or Mr. Collins. If you have not seen or read Pride and Prejudice, at the very least, google their proposals, so you know what not to do. 
Your marriage proposal speech is a story that will be with you and your future spouse forever. Make it a story that she (or he) is proud to tell and inspires reactions of "awwwwwww" from friends. 
Keep reading for five creative things to say as you lead up to the big question, "will you marry me."
1. Put Your Heart in It
When you are proposing, you want to be sure to express your heart. A marriage proposal should not be about the benefits of getting married; just ask Mr. Collins after his failed proposal to Elizabeth Bennet. 
In contrast, when Mr. Darcy told Elizabeth, "you must allow me to tell you how ardently I admire and love you," now that's heart. His first proposal may have failed, but his later declaration of love was perfect. 
Put your heart into your proposal and tailor it to you and your partner. If you are not a sappy couple, don't be sappy. But do take the time to express your love and feelings. 
You can leave your partner with warm fuzzies even if you are not the sappiest chap. 
2. Use Personal Experiences
A marriage proposal is personal. Utilizing personal experience in your proposal can make it uniquely you. 
For example, if you want to say something like, the day I met you, you can include details about what they were wearing, doing, saying, or something else unique from that day. 
Or you could choose to describe the day you realized you wanted to spend forever with them. What about them brought about that decision? 
If you want to get a little cheesy and funny with it, include a hobby you both enjoy. For example, if you both love doing puzzles, use words that draw on that hobby. 
In this scenario, you could say something like, "my life was incomplete until the day I met you; you are the missing puzzle piece from my heart."
If you enjoy rock climbing, you could say something like, "will you climb with me through the rocky parts of life and ascend to new levels?"
Yes, it may be a little cheesy, but it will be something she (or he) remembers forever, and a little humor in your proposal speech helps inspire the aww factor. 
3. KISS
At the end of your proposal speech, you will hopefully hear a YES and get a kiss. However, that's not the kiss we are talking about here. This will help you get to the kiss faster, though. 
In this case, KISS stands for Keep It Super Simple or Keep It Simple Stupid; you choose your favorite. 
Shakespeare is great; however, when proposing your proposal should not turn into a Shakespearean soliloquy, unless you both love Shakespeare, then have at it. 
Don't drag it out. Use a few sentences that express your feelings in a fun and unique way and then ask that question!
Not only will it get you to the kiss faster, but it will also get you to holy matrimony and planning your wedding destinations abroad faster. 
4. Be Yourself
If you have ever seen the TV show Brooklynn Nine-Nine, Jake's proposal to Amy is a perfect example of all of the elements we have discussed so far. 
However, what makes it better is that he is himself. This proposal is uniquely him and sweet and inspired the awww factor amongst many fans. 
If you want your proposal to be the best, be yourself. It is likely you will be nervous already, do not make your proposal even more nerve-wracking by trying to be someone you're not. 
When your partner agrees to marry you, they know what they are getting. Be yourself and let that shine through. 
5. Don't Forget to Ask
When it comes to the end of your speech, do not forget to drop to one knee and ask the question your partner has been waiting for. 
Your proposal speech may be excellent, but if you do not remember to actually ask, then you may leave your partner not knowing what to say. If you do not want to say the typical words, you can also say things such as:
Will you be my wife
Will you by my husband
Will you spend the rest of your life with me
Will you be mine forever
Will you make me the happiest person alive
A great example of a proposal where the proposer almost forgot to ask is from Downton Abbey and Matthew and Mary. Mary had to remind him that he needed to properly ask. 
Plan Your Inspired Marriage Proposal Speech
At the end of the day, just don't be a Mr. Darcy or Mr. Collins. Take the time to plan what you want to say and practice! 
Even if you are in a long-term relationship, the nerves can hit when it comes time to propose. As you move from your current dating phase to engagement, make it unique, and a moment your partner will remember forever. 
Happily Ever After
Are you ready to start your happily ever after? Use the tips discussed to craft the perfect marriage proposal speech and head into the sunset with your intended. 
Did you enjoy this article? Check out more articles on our website for tips, tricks, and ideas to inspire your life. 
Anything to Add? Leave a Comment!