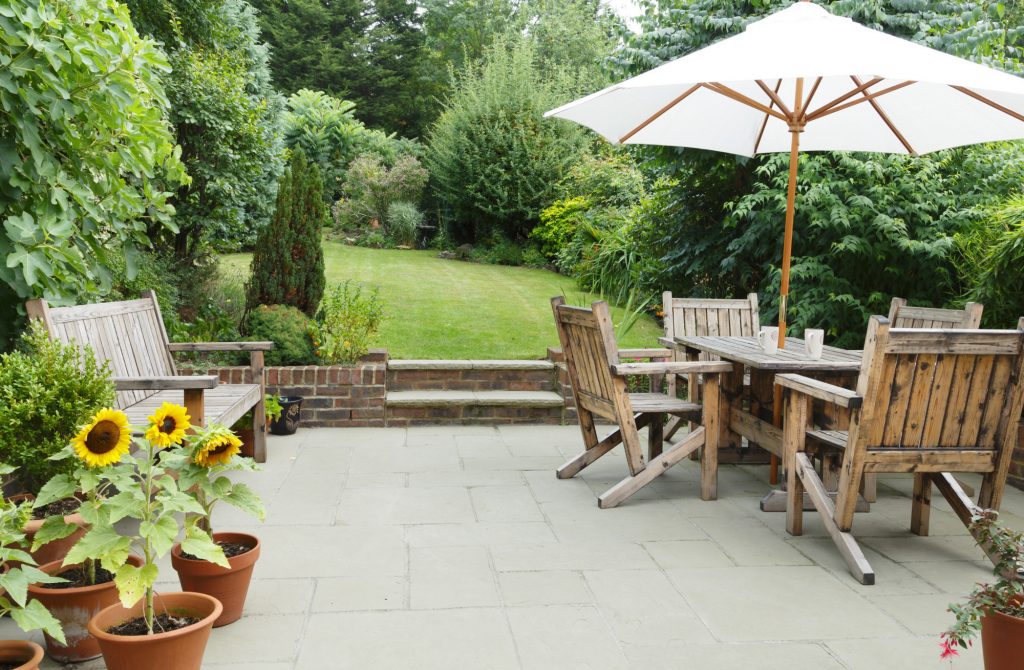 Summertime is here, and you know what that means it's going to be hot! But what fun is it if you're going to be cooped up inside all day? 
So instead of going out and shop, buy all your summertime favorites and invest in redecorating your yard for your kiddos to celebrate and play. 
Now, you may be wondering, "how can I decorate my yard?" It certainly needs to be cheap. 
Don't worry with this guide; you can find out! From hanging wall lanterns to installing window boxes, you can learn how to decorate your yard your way. 
Now, are you ready to get started? Here are a few yard decor ideas: 
1. Bright Patio Furniture 
First things first, purchase some patio furniture. Now, as you may see in the heading, there's an emphasis on it being bright. 
There's a reason for that: patio furniture is often brown, beige, or grey in color; however, those colors will only make the furniture blend in rather than allowing anything to pop. In fact, regular patio furniture will only make the space look boring and dull.  
So don't be afraid to bring some color to your space. Whether it be bright red, aqua, or pink, use colors to your advantage. Purchase a bright patio set or a few individual pieces to bring your patio to life. 
2. House Number Planter 
A house number is what identifies your house, so why not stylize it to go along with your decor? Gone are the days you have to stick with the same boring font as everyone else. 
Luckily, there are many fonts, styles, and even colors to customize your house number to perfection. However, there are other ways to customize your house number. You just have to think bigger. 
For instance, purchase a house number planter; this 2-in-1 combo has a customizable plaque that comes with an attached planter box for small flowers or plants. 
Purchasing this combination will make any home stand out. It not only lets guests know where you live with you, but you can place your favorite flowers to greet guests while welcoming them to your home. It's the perfect outside accessory to add to your home.
3. Wall Lantern 
Outdoor lighting is certainly a necessity when it comes to security and seeing what's out at night. However, it can also be an opportunity to increase your home's curb appeal. Purchasing a few traditional or modern wall lanterns will boost your home's attractiveness and overall design.  
However, make sure they're not too close together to make the outdoor space feel cluttered or cramped with lights. Spread them around and put wall lanterns where they would be most beneficial as a light source and as an aesthetic object. 
4. Statues and Figurines  
Okay, hear us out; we're not saying purchase a flamingo or gnome figurine. However, some yard statues and garden figurines can improve the look of your yard and boost your home's value. For example, a lion statue at the entryway or a Budda figurine in the middle of your yard can make your yard look complete. 
However, make sure you find an appropriate place to put the statues and figurines to make them stand out. If not, it can throw off the whole space, making them look odd, out of place, or even cluttered. 
5. Window Boxes 
Instead of having boring, plain, windows dress them up with some fancy window boxes. Since they have many colors, you can choose a color that matches your window panes or goes along with your paint color. 
However, if you want to be bold, choose a style that makes the window boxes pop from against your window panes. Whether it be made from a wood material or one of brass or metal, let it stand out and feature as a statement piece of your porch. 
For flowers, select your favorite flowers or a type of flower that's easy to take care of. Taking care of plants is always easier when you know how they'll behave due to the conditions you live in. 
6. Bird Bath
There's nothing more soothing than the sight and sound of a water feature. Water features like a bird bath help complete any outdoor space. In fact, they add notes of relaxation, elegance, and mediation experiences to your outdoor ambiance. 
With a bird bath in your yard, it not only allows you to connect with nature but it allows you to take part in helping birds through their lives. 
Not to mention, there are a variety of styles you can purchase to make the bird baths your own. Many tend to have a statue of some sort at the center; however, if that's not your style, you can always go for a classic water fountain vibe. 
7. Garden Arbor 
If you always wanted a white picket fence when you were a kid, well, here's the upgrade to luxury suburban homes: a garden arbor. If you don't know what it is, it's an arch that's used as an entryway to the front yard or garden. It's typically made out of white vinyl; however, it comes in different finishes and designs if requested.  
However, you can enhance your regular garden arbor by purchasing climbing plants and arranging them around the arch. It will make the entryway look something out of a fairy book forest. 
Use These Yard Decor Ideas Today   
Now that summertime is here, it's time to redecorate! Whether it be purchasing new window boxes or a bird bath, let your creativity shine and use these yard decor ideas to get started today. 
For more thrifty decor inspiration, visit our website. We look forward to helping you find the right items for your home. 
Anything to Add? Leave a Comment!