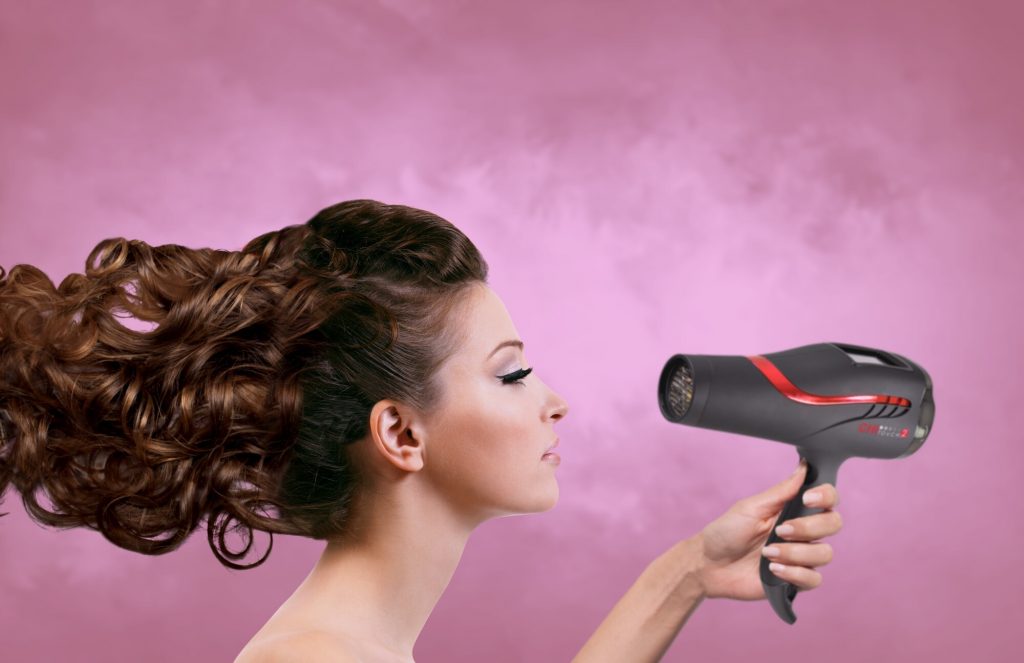 It's no secret that we spend a lot of money on beauty maintenance, including hair care. With all the different hair types in the world, it can be overwhelming to find the tools and products that work for you. 
This is particularly true when finding one of the most iconic hair tools—the hair dryer. Take one look at any beauty supply store, and you'll see shelves lined up with a variety of different hair dryers. When it comes to an ionic vs. ceramic hair dryer, which is right for you?
Keep reading to learn more. 
What Is an Ionic Hair Dryer?
You may remember the word Ions from your old high school physic class. They're the invisible particles that are present all over us. Positively charged ions, however, create issues for your hair.
This includes pesky problems like frizz, flyaways, and static electricity.
Ionic styling tools emit negative ions to attract positive ones, causing a neutralizing effect. When your hair is wet, it breaks up the water molecules and allows the smaller droplets to penetrate the outer layer of the hair shaft. This helps get rid of static electricity and reduces flyaways and frizz, leading to radiant hair. 
This is a great option if you want to use a lower temperature to dry your hair, preserve the definition of your curls, dry your hair quickly or not worry about frizz.
What Are the Drawbacks?
What kind of comparison would this be if we didn't mention the drawbacks? For starters, ionic hair dryers make it easier to over-dry your hair. This is a red flag for anyone who has fine hair. 
Additionally, if you do have fine or oily hair, it may be left looking limp. If you want a look with lift and movement, you might not want to go with an ionic hair dryer. It can be easy to go overboard and over-dry your hair, robbing it of any volume or texture. 
Another drawback? You'll be spending more money on an iconic hair dryer. They tend to be a pricier option and not as budget-friendly as their ceramic counterpart. 
What Is a Ceramic Hair Dryer?
Ceramic hair dryers are great for pretty much all hair types. The inside of these hairdryers is coated to help distribute heat evenly. Traditional hairdryers have a more uneven airflow. 
Ceramic hairdryers regulate heat by sensing the temperature of the room and adjusting accordingly. You'll notice that the air coming from your hair dryer is hotter initially, but it cools gradually. Your hair will be drier, quicker and there will be less damage in the process.
What causes this magic? Ceramic is a composite material usually made of clay, and it creates far-infrared heat to penetrate the hair shaft. This maintains the hair's natural moisture. 
It heats up quickly and provides even coverage across the surface of your hair. That means you can expect your hair to dry gently, from the inside out, without the worry of damage. 
Essentially, if you see the word ceramic in the description of a hair dryer, it's a good thing. 
What Are the Drawbacks?
Both the ionic and ceramic hair dryers have the same drawback: they're more expensive than traditional hairdryers. However, this is a classic case of 'you get what you pay for.' Ceramic hair dryers are a reliable and durable option that will make a significant difference in your hair's appearance. 
You should also know that ceramic models do release some negative ions to help control frizz. However, if frizz control is your main worry, you might want to invest in an ionic hairdryer. They're superior to ceramic hair dryers in controlling frizz. 
What Are My Other Options?
If neither of these options works for you, or you want to know how to dry your hair without a blow dryer, there are alternatives. 
For one, you can get the benefits of both ionic and ceramic technology with combination dryers. These are great because they contain that ceramic coating while also distributing the negative ions for quick drying. 
There are also a variety of different kinds of hair dryers available. 
Another great option for frizz-prone hair is tourmaline hair dryers. Tourmaline is a gemstone that's crushed into a fine powder and built into the internal components of a hair dryer. When this powder is cooled, heated, or pressurized, it emits both far-infrared heat and negative ions. 
This is a fancy way of saying that it can get rid of frizz. 
If you prefer a more natural way of letting your hair dry, you can still create style and definition without electricity. The right combination of techniques or products can mean the difference between damaged hair or healthy-looking locks. 
Use an absorbent towel to squeeze excess moisture from your hair after stepping out of the show. Blot your hair with that towel to soak up any water. Be sure not to rub. This causes frizz.
You can then apply any products and let your hair air-dry. Of course, this isn't the best method to go with if you're in a rush, but it's the least damaging by a landslide. 
Ionic vs. Ceramic Hair Dryer: Which to Choose
When it comes to your hair health, there's no room to mess around. The wrong product or tool can leave you with constant bad hair days, so it's better to do your research before making any impulse purchases. 
With hair dryers being one of the most important tools in your styling kit, it's important to know which is right for your locks. Knowing the difference between an ionic vs. ceramic hair dryer can save you an emergency trip to the salon. 
Looking for more articles like this? Be sure to check out our blog for tips on thrifty living!
Anything to Add? Leave a Comment!