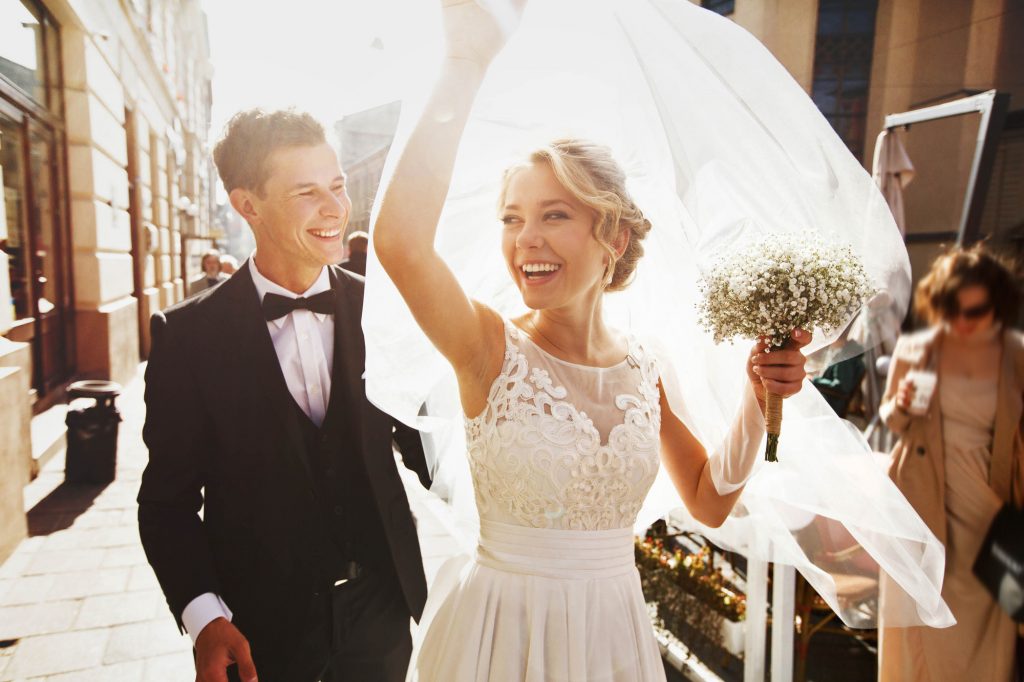 Research suggests it takes an average of 12 to 18 months to plan a wedding for the average couple. This adds up to an average of 200 to 500 hours of wedding planning in total! 
The pandemic has put a lot of things into perspective for us all. Many of us want to seize the moment and get back to living.
For the recently engaged who want to get to the big day already, it doesn't need to take years to plan your wedding. In fact, we can help you learn how to plan a wedding in 6 months.
How to Plan a Wedding in 6 Months
It goes without saying that you'll need to be insanely organized to pull it off, but it is doable. Use our 6-month wedding planning checklist to help you plan the big day pronto!
6 Months
Before anything else, you need to determine your budget. This means figuring out how much you're willing to spend and if anyone else is contributing, as well as how much. You can then figure out how much you need to allocate to different aspects of your big day.
With your budget planned, next up you need to choose your venue. This is usually the most expensive and difficult part of wedding planning. The most popular and traditional venues are usually already booked up for years in advance, but there's plenty of amazing venues that won't be.
You can try booking on less popular days for traditional venues or look for more unusual venues. You never know what you might find that you'll love. 
Once you've booked your venue, it's time to book your main vendors. Much like venues, the best and most popular vendors are booked well in advance. Get yours lined up as soon as possible to avoid disappointment.
If you know you've got a lot of guests in from out of state, it's a great time to secure a hotel room block. This will reserve rooms for your wedding guests only to book, usually at a discounted rate. 
If you're having an engagement shoot, this also needs to be organized now you've arranged your photographer. This is so you can use your photos on your invitations, on the big day, or on your wedding website.
Last but by no means least, time to choose your dress. Custom-made dresses need to be ordered as soon as possible to avoid rush order fees. Once you've found the dress, you can also schedule your fittings closer to your big day so it's a perfect fit.
5 Months
With the majority of the big decisions made, this month is all about who's coming to your wedding. This means figuring out your guest list now you know your venue size.
Sit down with your other half and spend time making the list and checking it twice. It might also be worth talking to both sets of parents to make sure there's no one you missed. 
You'll also want to establish who's in your wedding party now. This is because you'll need to organize bridesmaid dresses and groomsmen tuxedos. They don't take as long to organize as the bride's dress, but the sooner the better. 
If you're going to create a wedding website to keep track of your guests and for your gift registry, then now's the time to do it. Include key information like the date, maps, nearby hotels, and any dress codes.
Time to send your save the date cards. If you're opting for digital save the dates, this is fairly hassle-free and there are loads of cute templates available online.
However, if you'd rather have traditional physical save the date cards then you need to find printers. Our pro-tip here would be to find a printer who can do it all, including your later wedding invitations, menus, and anything else you want. Using the same vendors where possible makes planning a wedding in 6 months much easier to coordinate.
4 Months
Arrange any other vendors you need to. You'll obviously already have things like your caterer and music for the big day arranged from months ago, but there are some other smaller vendors you'll need too. Things like transport for you and your guests, hair and makeup stylists, and more should all be booked now. 
You'll also need to purchase your wedding bands. Many wedding bands are made to order and it can take up to 3 months for your bands to be made and delivered. So 4 months to go is the latest you should be organizing this aspect if you want to avoid disappointment. 
3 Months
You've reached the halfway point! Treat yourself to some menu and cake tastings with your other half. Arguably one of the best parts of wedding planning in our humble opinion. 
Send out your invitations now. They should've been designed and ordered back when you arranged your save the dates. So this should be as simple as popping them in the post. 
You can start thinking about beyond your big day now — your honeymoon! It's a great time to get your flights and hotel booked for some R&R after the big day. 
2 Months
Time to party it up at your bridal shower, bachelor party, and bachelorette party. These should hopefully be organized by the maid of honor and best man, as well as other members of the wedding party. We'd definitely recommend having them well in advance as opposed to the day before the big day to avoid hangovers.
Get a little post-party pampering with a hair and makeup trial. This will help avoid any catastrophes on the big day.
In more serious business, you also need to order your marriage license. It's easily forgotten in all the fun, but without it, you won't officially be married. All you need to do is visit the county clerk. 
1 Month
The vast majority of your planning is done, but it's still worth re-confirming everything with your vendors and wedding party. You'll also want to finalize your seating chart now you'll have all your RSVPs. You can use a free wedding seating tool to make this nice and easy. 
Get your bags packed for your honeymoon so you're not rushing around after the wedding day. Otherwise, just focus on enjoying your big day!
Enjoy the Big Day!
Knowing how to plan a wedding in 6 months is only half the battle! Getting through it without having a stress meltdown is no easy feat. But remember this is the best day of your life, so take time to enjoy all the little moments and not let the stress get to you.
You can find loads more tips for wedding planning, including frugal planning, on our blog.
Anything to Add? Leave a Comment!