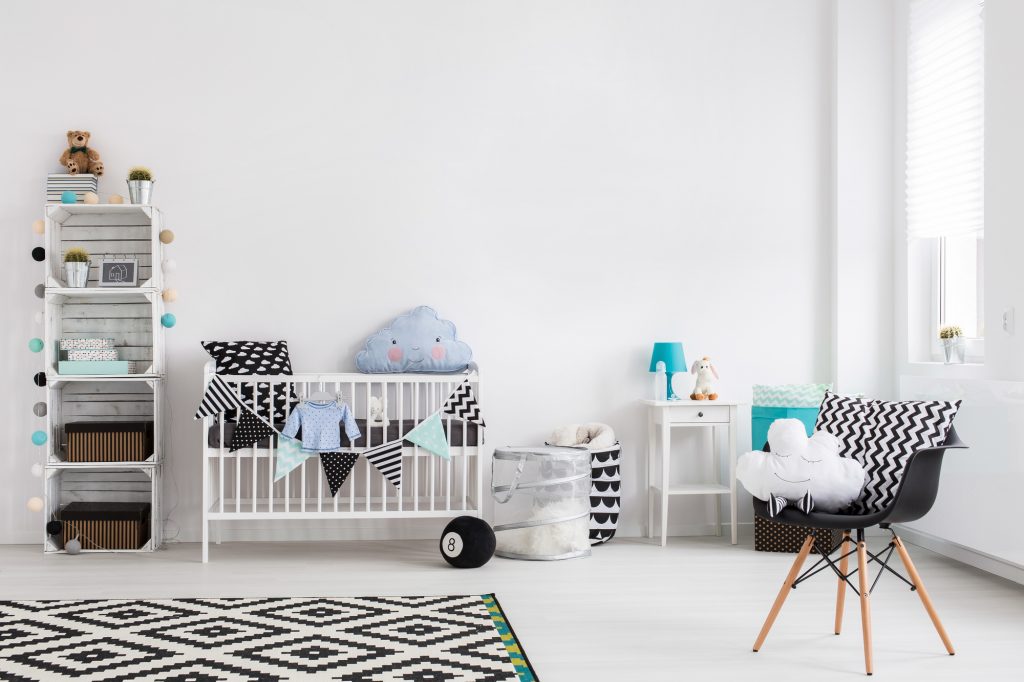 If you are having a baby soon, you need to start preparing your baby's nursery ASAP!
The last thing you want to be worrying about as your due date approaches is whether your baby will have a comfortable and calming space to live and sleep. 
To ensure that your baby has a nice, homey nursery, we are giving you a list of the top 9 nursery must-haves.
1. Crib
Your baby's crib is the most important item that will be in your nursery. This is because this is where your baby will sleep.
According to BabyCenter, newborns sleep around 16 -17 hours a day. Thus, it is vital that you get a quality crib. We suggest getting a crib that has a secure frame and stationary sides.
We also suggest that you purchase a crib whose sides are not too closed off so that you can easily see inside the crib with your baby monitor.
A possible substitute that you can have for a crib is a bassinet. Although you will need a crib as the baby grows, a bassinet is a great miniature bed for your newborn.
2. Baby Monitor
Our number 2 choice for baby nursery must-haves is a baby monitor. A baby monitor is a technological device that has a camera and a radio system in it so that you can see and hear what your baby is doing in its nursery when you are not in the room. Although mothers in the olden days were able to raise their kids without baby monitors, you would be a fool to not take advantage of this technological safety tool today.
3. Changing Table
Until your baby is potty trained, you will be spending tons of time changing your baby's diaper. Thus, it is vital that you purchase a changing table.
A changing table is a stationary platform with a bed-like table on top of it for you to lay your baby down and change his or her diaper on. Below the bed-like table of a changing table are small drawers for you to place the baby's diapers and objects into. A childrens dressing table is one of our top baby room must-haves because it makes the diaper changing process easier on parents.
4. Nursery Chair
Our number 4 item on our nursery must-haves list is a nursery chair because this is the place where you will sit while performing bonding like activities with your baby like breastfeeding and rocking your baby to sleep. Other names for a nursery chair are a breastfeeding chair and a nursing chair. Many people refer to a nursery chair as a breastfeeding/nursing chair because this is where most moms find themselves breastfeeding their newborns late at night.
5. Diapers and Wipes
Two things that you can never have too much of when you have a newborn baby are diapers and wipes. Newborn babies are known to go through around 10 to 12 diapers in a day. Thus, we cannot stress more how important it is to stock up on diapers and wipes prior to your baby being born.
6. Diaper Pale
A diaper pale is a special sealed trash can made to hold diapers. What makes diaper pales specific for the use of holding used diapers is the fact that they are manufactured to trap odors. That way, all the stinky and poopy diapers that you throw out each day will not stink up your nursery room and home while sitting in a diaper pale.
Other features of a diaper pale that make it suited for holding used baby diapers are their foot pedals and flip lids. The foot pedals and flip lids on diaper pales allow parents to easily throw away diapers with one hand. That way you can throw away a used diaper in a diaper pale while still holding onto your baby.
7. Dresser
A dresser is a nursery must-have because it is where you will hold all your baby's clothes and objects. You can purchase a dresser in whatever style matches your nursery. As long as you have as many dressers as you need to hold your baby's clothes and objects, you are good to go.
8. Clothes
Your baby can't be naked forever. Thus, you are going to need to buy some newborn baby clothes and onesies for your child to wear. Babies grow out of their clothes quickly, so make sure to buy some clothes for your upcoming baby in sizes for every month your baby will be alive, for up to 6 months.  
9. Nightlight
A nightlight is our final nursery must-have because it is a great tool to have when you are up late with your baby in the nursery, and you do not want to turn on a full light. You can also use a nightlight as a source of comfort for your baby as he or she is sleeping in his or her nursery alone at night.
Nursery Must-Haves: The Rest Is Up to You
Now that you know the top nursery must-haves that you need to purchase, the rest of the design of your nursery is up to you. If you want a nursery with a minimalistic aesthetic, make sure that all your key nursery items are in neutral colors. If you want a girly nursery, incorporate pink in your nursery's design.
At the end of the day, you can design your baby's nursery however you please. To learn more about nurseries and how to save money as a mother, check out our other blog articles.
Anything to Add? Leave a Comment!