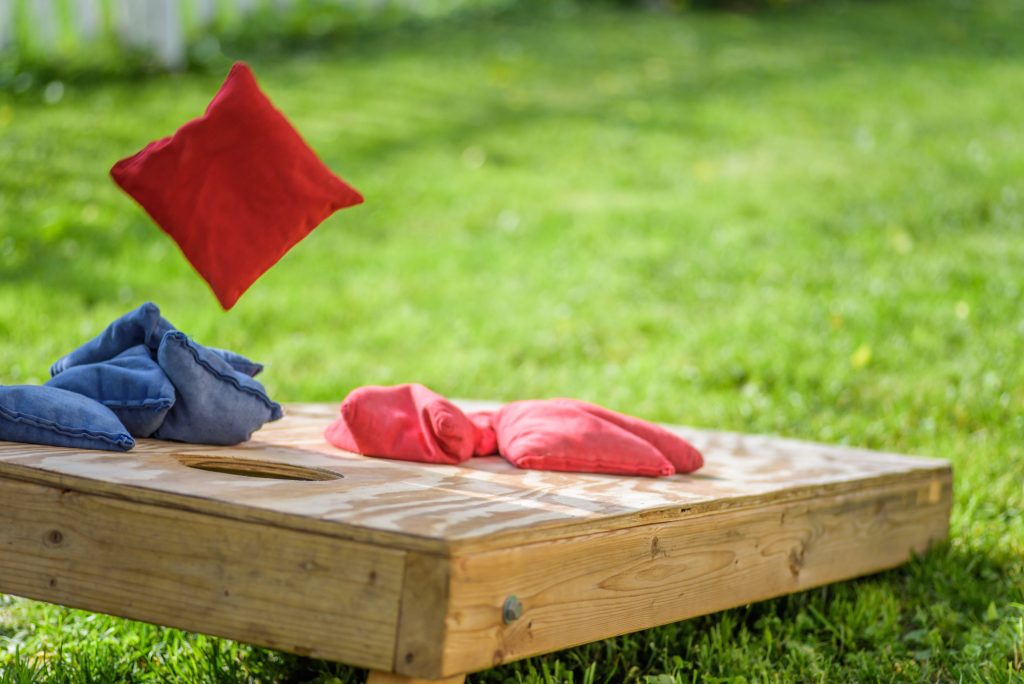 Are you putting together the plans for an outdoor birthday party, graduation party, or anniversary party?
In order to do it, you're going to need to make sure that you have a bunch of grilled foods ready to serve. You're also going to need to get access to rental tents, tables, and chairs. And of course, a DJ or some other source of music is going to be a must.
But to put your outdoor event over the top, you'll need to have plenty of fun backyard games for everyone to play, too. Check out 10 favorites that you should consider having on hand during your event.
1. Cornhole
It's safe to say that cornhole has turned into one of the most popular backyard games around in recent years. It's so popular at this point that you can find professional cornhole players flexing their skills on ESPN.
The great part about cornhole is that it's a terrific game for those of all ages. It doesn't matter if you're trying to entertain a group of middle-aged men and women or a group of teenagers. Everyone will have a blast throwing the bags around during games of cornhole.
2. Horseshoes
Long before cornhole became a staple at backyard barbecues and parties, it was horseshoes that ruled the roost. People spent hours tossing horseshoes around and trying to get them to ring around metal stakes in the ground.
Today, horseshoes have dipped in popularity slightly since cornhole is seen as a similar game that's a whole lot safer. But if you set up some rubber horseshoes during a party, you'll still see plenty of people flock in their direction.
3. Ladder Toss
The one downside of both cornhole and horseshoes is that it can be difficult to pick up the equipment that you need for it and move it around. The equipment can be too heavy and/or bulky for most people to pick up.
That's not an issue with ladder toss. It's a game that calls for people to try and fling bolas around the various rungs on a ladder—and both the ladders and bolas for it are easy to carry around. It's why it's transformed into a favorite among those at tailgating events, beaches, and backyard parties.
4. Kan Jam
Picking up a Frisbee at a backyard party and tossing it around used to be considered a game in and of itself. But these days, people can take their Frisbee-throwing skills to the next level with an exciting game of Kan Jam.
This site breaks down how easy Kan Jam—a.k.a. Frisbee Fling—is to play. It's amazing how much fun a group of people can have with a Frisbee.
5. Giant Tic-Tac-Toe
Do you want to cater to the youngest of crowds during a backyard party? This is one of the simplest backyard games to play.
It's just like regular tic-tac-toe—except that it's life-sized. Get a group of kids together and watch them go to town with a giant tic-tac-toe board.
6. Giant Connect Four
Giant tic-tac-toe can be fun for a little while. But it won't take long for the novelty of the game to wear off and leave people thirsting for more.
A giant Connect Four game will fill the gap left behind and allow people to take an even more strategic approach to backyard games. This is yet another game that is great for those of all ages at a variety of different types of backyard parties.
7. Giant Checkers
While we're on the topic of "giant" backyard games, we might as well stick with the theme and add giant checkers to the mix, too. Two people at a time can show off their checkers skills with a giant checkers board.
If you're going to set up a giant checkers board during your outdoor event, you might as well add a giant chess board to the mix, too. It'll work well for slightly older audiences who want to put their love for chess on full display.
8. Bocce Ball
Believe it or not, bocce ball was invented all the way back in 5,200 B.C. It was played by the ancient Egyptians before it was later played in ancient Greece and Rome.
Yet, despite its old age, bocce ball is still a game that is loved by those around the world. You can bring everything you need to play bocce ball to your next party and let people experience what has made it such a timeless game.
9. Badminton
If you have a large area to set up games for your party, you might want to set up something that a group of people can play together. Badminton is one great game that immediately comes to mind.
To play badminton, people will need a badminton net, badminton rackets, and, of course, badminton "birdies" to hit back and forth.
Badminton is another game that can be traced all the way back to ancient times. But it hasn't lost its luster after all these years.
10. Kickball
Much like badminton, kickball is a great game for those who have a large area of space to devote to a group game. You can play kickball with up to 18 people and have the time of your life while you're doing it.
The only things you'll need to play kickball are bases and a kickball itself. People can work up a nice appetite while playing kickball before chowing down on the food at your party.
These Backyard Games Are All So Much Fun to Play
All of the backyard games that we've mentioned here are fun to play. You really can't go wrong when you set up any of them at an outdoor party.
There are dozens of other great games to play, too. Try to set up as many different options as you can for people so that they're guaranteed to have a terrific time at your next outdoor event.
Need help planning out the other aspects of your next party? Keep browsing our blog to get some useful party-planning tips.
Anything to Add? Leave a Comment!