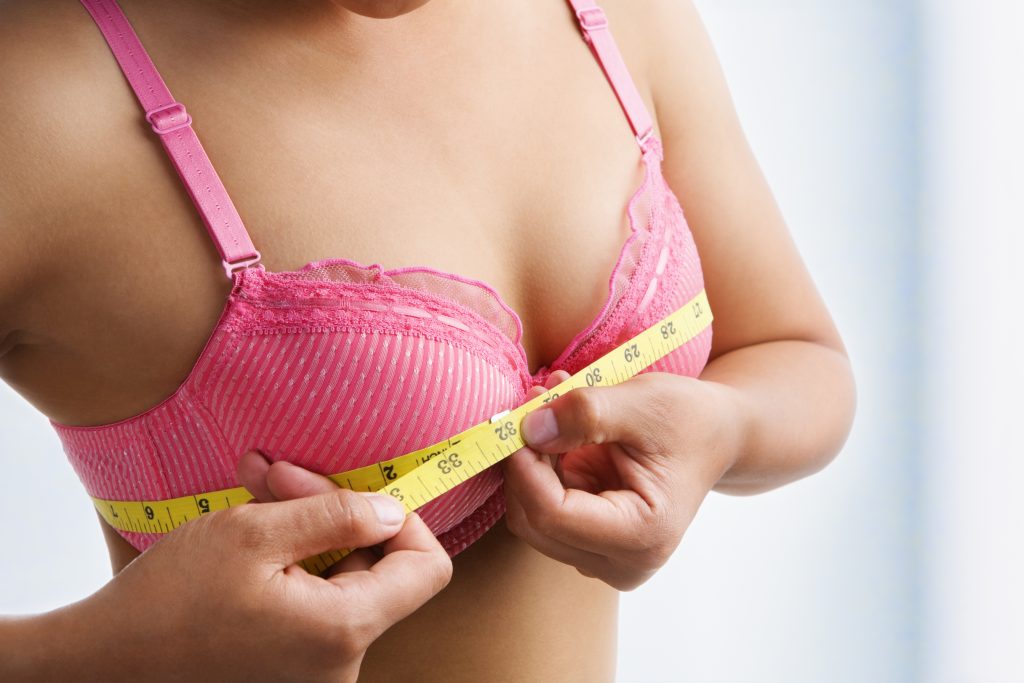 Given that 80% of women might be wearing the wrong bra size, there are a lot of people who've never had themselves fit for the right bra. Figuring out how to measure bra size is half the battle if you're looking for the perfect fit. However, if you don't know how bras really work or how to measure, then you won't end up with the result you're looking for.
Here are five steps for measuring your bra size perfectly.
1. The Band Is Your Main Support
When you're looking for a bra that fits right, you might be focused on the size of the cups and how they fit. However, the band is the part of your bra that does the most of the work of supporting you. Strapless bras might be a dead giveaway that this is the case.
The strap isn't the part that does the work of holding up your bust so much as that they help to keep your cup flush with your body. They also work to shape the breast.
When you've found a bra that fits, you'll know when you can slip the straps off and take a few steps while your bra still stays in place. This is a quick way to see how well a bra fits before you invest in one.
2. You Need Two Sizes
Much like jeans, there are a wide variety of ways that bras fit your body. You'll find that every single brand has a different way that they fit your body. Bras as notoriously difficult to shop for, just like pants, but once you find the way a brand fits, you'll know what you can expect.
You'll have a true size that corresponds to your body in most circumstances. However, there are also sister sizes that can help you understand the way bras fit if in other brands. If you can't find a bra that fits in one size, try a bra in one of your sister sizes.
If you go up in your band size, go down in your cup size. The opposite is true as well. A 32C could also fit a 30D depending on the company you're buying from.
If you know sister sizes, you can start to understand how to accommodate for different sizes based on different brands. When your real size is hard to shop for, you can find something in one of the other options.
3. You Can Use an Equation to Figure it Out
Your bra size is a ratio that's based on your cup and band size. If you really want to have a handle on your bra size, get yourself professional fit at a boutique at least once in your adult life. Don't be surprised if a bra expert tells you that you've been wearing the wrong size for your entire life.
Measure yourself at home with some measuring tape if you're struggling to find your size.
You need to take two separate measurements to get the true size you're looking for. Loop the tape around your back and underneath your bust so that you know your band size. That's the first number that you're looking for.
Then take the tape around your back again and over your bust. If you get a 32 under your bust but a 34 over your bust, then your cup size is a B. That's because the difference is 2 and a B is the second letter of the alphabet.
4. No One Is Naturally Symmetrical
It's very common and typical for one breast to be bigger than the other one. If you find that's the case, always round up. For some people, the difference is significant enough to require an expert.
Two different-sized breasts are often accommodated by fitting to the larger breast and adding a removable pad. This ensures that you get a better fit without discomfort. Trying to compress the larger breast into a smaller bra is going to cause unnecessary discomfort that a pad could help to alleviate.
Be careful to find a pad that fits you securely so it doesn't jostle or move around while you're going through your day.
5. Beware of a Big Band or Small Cups
You need to have a perfectly-fit bra for your body if you want to feel comfortable wearing a bra for hours at a time.
Look for your breasts to squeeze out of one side of your cups. This will put extra weight on your straps and cause them to dig into your shoulders. While you might be able to alleviate this issue by pulling the straps taut, this isn't always the solution you need.
If your straps hurt, you may need larger cups.
However, be sure that your bra matches your current body size. If you've gained or lost weight recently, you might need a different sized band. Straps that dig into your shoulder also mean that your band is too big.
Your straps are forced to do all of the work when your band is too loose. If you look at your straps in a mirror and you notice that they're pulling the band up, it'll be so stretched out that it could wear it out.
Try out these vouchers if you want to figure out how to find something that fits you better.
Learning How To Measure Bra Size Takes Time
Don't rush if you want to get this right. If you don't take your time to measure carefully, you're going to end up continuing to wear bras that don't fit. Learning how to measure your bra size is a worthwhile effort since the result is going to impact you every day.
If you've recently had surgery, check out our guide for finding bras to wear after a procedure.
Anything to Add? Leave a Comment!