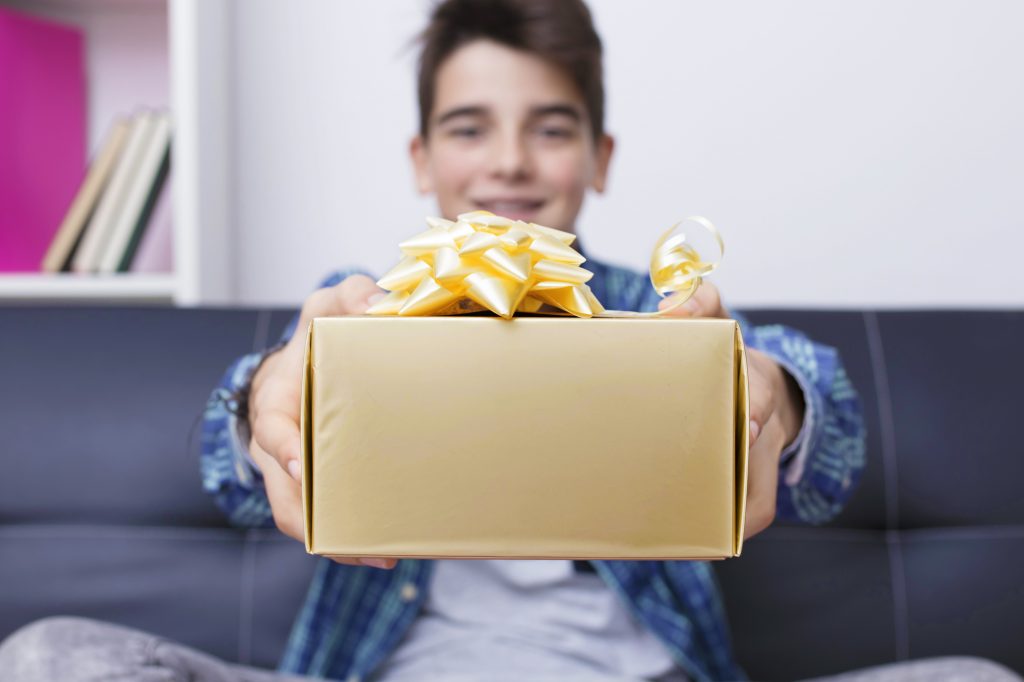 Anyone with a teenager knows they can be a picky bunch, which makes shopping for gifts a hazardous activity. Teens are notorious for changing tastes, changing moods, and shifting loyalties to brands and styles.
But buying birthday gifts for teens isn't impossible. We are here to help!
There is certainly no shortage of teen birthday gifts to choose from, even if you're on a budget. In fact, we've put together a list of some great budget gift ideas that will help make your next shopping trip a breeze!
Let's take a look a few of the items that you should keep at the top of your list.
2019's Top Budget Savvy Birthday Gifts For Teens Under $50
Want great birthday gifts for teens that won't break the bank? Check out our list of 2019's top budget savvy teen birthday gifts that are under $50.
Anker PowerCore Lipstick-Sized Portable Charger
There's no denying that these days nothing is of more concern to teenagers than keeping their batteries charged. After all, life pretty much revolves around social media, and social media relies on mobile devices. Have you experienced a teenager with a dead smartphone battery? It's not a pretty sight.
Fortunately, the Anker PowerCore 3350mAH Lipstick-Sized Portable Charger is the perfect gift for ensuring that your teen never goes without power ever again.
This little jewel adds 6 hours of charge to an iPhone and most other smartphones, and can recharge in 3-4 hours with a 1 amp adapter.
This charger is perfect for making sure everyone can stay in touch.
Price: $15
Build On Brick Mug
Are you on the lookout for something original and cool for your teen? Here's something fun and quirky that's definitely a conversation starter. The Build On Brick Mug is a great way to keep their hands busy. Who knows, it might even replace the Fidget Spinner that was ubiquitous a few years ago.
This cute mug is the perfect place to keep stray Lego pieces that seem to have a way of being discovered under couch cushions or floating around other parts of the house. We guarantee that carrying this gift around filled with morning cocoa or coffee will be a real attention grabber.
Price: $14.99
Bluetooth Winter Knit Beanie
It's 2019, thus it's not enough to simply keep your head warm. You've also got to stay connected to your tunes. This gift will almost certainly become a must-have with every teenage boy in your life.
The XIKEZAN Bluetooth Beanie isn't just a knit hat for cold winter days, it's also a pair of headphones. It's available in gray or black and is designed with a side panel featuring music controls. 
The best part of all is that the price is a steal. After all, when was the last time you found a great pair of headphones for under fifty bucks?
Price: $17.99
Canbor VR Headset
It's not hard to understand why this gadget has quickly become one of the hottest gift ideas on the planet. VR headsets are all the rage and getting more popular with each passing day. 
When they first showed up on the market, they were kind of expensive. But things have quickly changed, and the Canbor VR Headset is a perfect example of awesome technology at an affordable price.
This headset offers some pretty awesome features, including three adjustable straps and ergonomic head belt design, anti-radiation and HD anti-blue light lens to protect your eyes, panoramic theater experience, and FOV up to 102 degrees with extra large viewing angles.
And all of that coolness for just $30
Electronic Bubble Squeeze Stress Relief Keychain
Is there anything more fun or soothing than popping bubble wrap? For many people, that's actually the best part of Christmas morning. Well, now you don't have to wait for a holiday to get the satisfaction of popping those fabulous air bubbles.
This novelty toy bubble wrap squeeze toy is nothing fancy, yet it's highly addictive. It costs less than five bucks yet is one of the best gifts you can give. Perfect as a stocking stuffer or decoration on a larger gift, this novelty toy is what everyone will be talking about.
Price: $5
Luxsure Universal iPhone Camera Lens Kit
We are living in a digital world. Everything revolves around our smartphones and their amazing photographic technology. Yet one thing our smartphone cameras could use a little help with is wider angle lenses.
Thankfully, there are wide-angle lenses available that snap right on to your phone, enabling you to take bigger and better pics.
A prime example of this is the Luxsure Universal iPhone Camera Lens Kit. It comes with a macro lens that gets 15x closer to objects, a fisheye lens for creating funny effects, and a wide-angle lens for capturing a wider field of view without distortion.
The lenses in this kit fit most smartphones and are super easy to use. Your teen will love it!
Price: $25
MacBook Air 13 Case
Teens take their laptops with them everywhere they go. That's why they need something cool to keep their devices looking as good as new. A Macbook Air 13 Case is the perfect solution to the problem. 
There are tons of designs and styles to choose from, and your teen will love making their laptop look snazzy!
Price: Under $50
Star Wars Cookie Cutters
It's time to go old school. Because some things only get better with age, and Star Wars will never go out of style.
If you want to give your teen a gift that will keep them smiling, it's time to invest in a set of Star Wars cookie cutters. Your teen will enjoy noshing on cookies in the shape of Stormtroopers, Chewbacca, C-3PO, and Boba Fett, among others.
This is the perfect way to make the perfect holiday treats even better!
Price: $14.99
The Ideal Gifts for the Teens in Your Life
Teens can be a tough crowd to shop for, but it doesn't have to feel like Mission Impossible.
Picking the perfect birthday gifts for teens can be fun if you simply use a little imagination and keep an eye out for the unexpected. After all, there has never been a better time to shop for cool gadgets that are surprisingly inexpensive. Use this list of budget gift ideas as a place to start!
Click here to see your complete guide to affordable luxury watches.
Anything to Add? Leave a Comment!