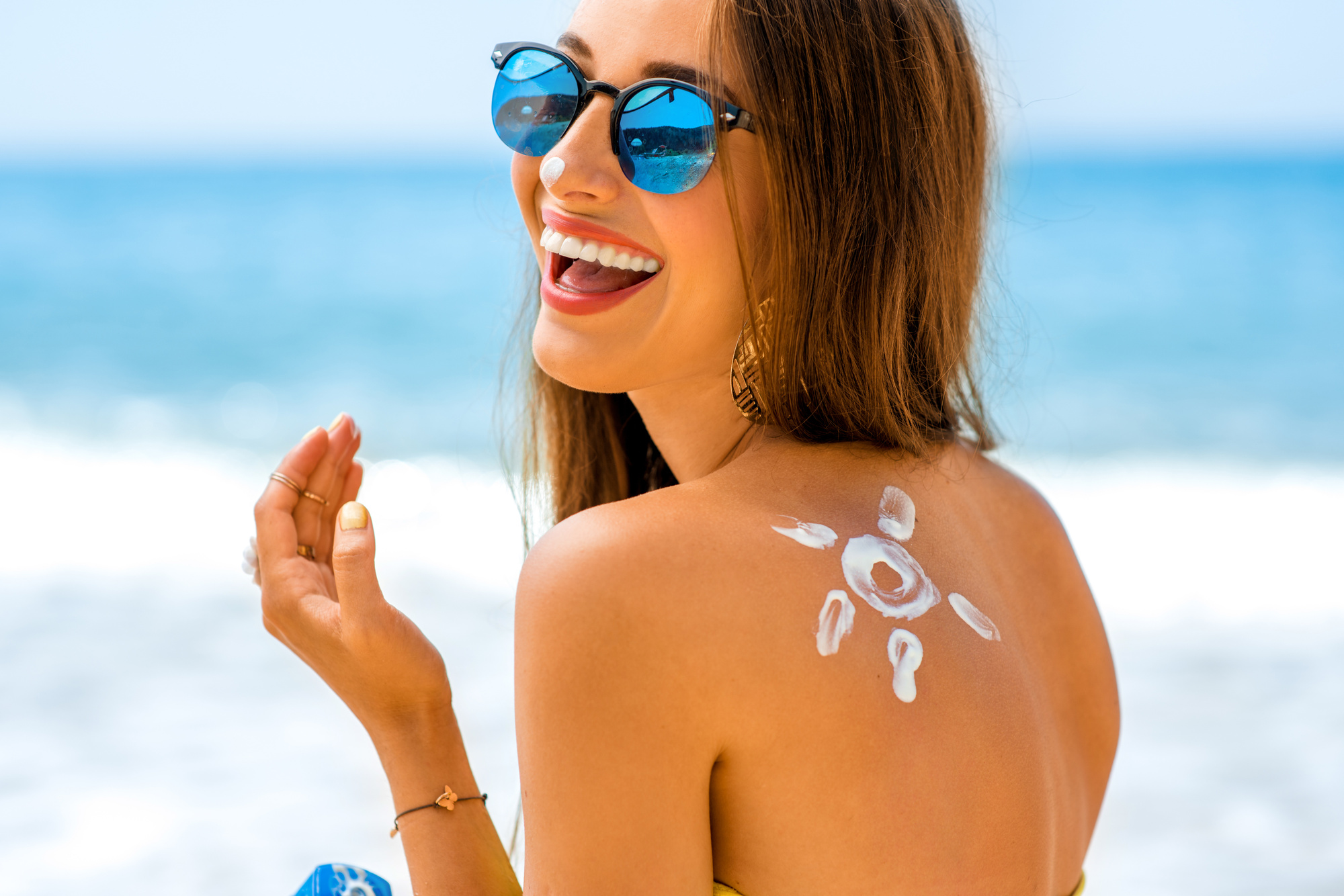 Are you one of the 87% of women confused by skin care products? If so, you're in the right place because throughout this article we're going to share with you ten ultra simple summer skin care tips.
Not only will this advice help you to look and feel your best, but there are also a couple of health benefits thrown into the mix!
So, with that in mind let's dive into these handy hints and tips.
1. Opt for Fake Tan
As you probably already know, exposing your skin to the UV rays found in direct sunlight or tanning beds can be incredibly dangerous for your skin.
Not only, do you run the risk of burning and prematurely aging your skin, but you also increase the likelihood of contracting skin cancer.
So, if you're after a sun-kissed glow we recommend using fake tan instead of lying for hours under the baking sun.
If you're on a budget, not to worry, there are plenty of inexpensive moisturizers you can purchase that contain self-tanner.
Not only do these limit the chances of ugly looking streaks, but they also gradually build up your tan so you can control precisely how bronzed you look!
Top Tip: always exfoliate before applying fake tan, this will get rid of any dead skin, and help achieve a more even coverage.
2. Always Apply Sun Cream
Always use sunscreen. Period.
If you're spending a lot of time outside you'll need to regularly top up your sun lotion because it'll eventually wear off, especially if you're swimming.
Before purchasing a bottle of sunblock, you should always ensure it has a minimum SPF factor of 30. Then, check the back of the bottle and see whether the cream contains the necessary ingredients to block both UVA and UVB rays.
This is essential if you're hoping to protect your skin adequately!
Luckily for us, gone are the days where you had to appear white and ghostly to protect your skin.
Nowadays, we can purchase sun creams that soak into our skin so no one would even know you'd applied sunblock.
Equally, you can buy foundations, concealers, moisturizers, etc. with SPF protection. So, keep an eye out for these when you're updating your makeup collection.
We recommend using suncream on your face as a primer, and then applying SPF makeup over the top- you can never be too careful!
3. Don't Forget Your Lips
Similarly, we suggest wearing sunscreen designed for your lips, and then wearing your lipstick over the top.
4. Don't Forget to Exfoliate
Exfoliating isn't just for the application of fake tan!
If you're hoping to keep your skin hydrated throughout the summer, then you need to exfoliate regularly.
Not only will this leave your legs, arms, and face feeling silky smooth, but it's also super helpful for preventing in-grown hairs. So, be sure to exfoliate any skin you've just waxed or shaved.
5. Always Take Time to Moisturize
Have you ever heard of avocado oil?
Well, it's incredible for moisturizing and rehydrating dry skin. Problem areas tend to include: elbows, feet, ankles, and knees.
So, try smothering them in nourishing avocado oil before bed and see if that helps!
Alternatively, to restore the hydration of the skin on your face, you should consider getting a professional facial. Not only will this make your skin feel clean and fresh they're also super relaxing!
6. Use Mineral-Based Makeup
We love mineral-based makeup.
Typically, this cover up's formed of a light powder base; this means it won't sweat off as quickly in comparison to oil-based foundations.
You needn't spend a fortune on these cosmetics either, head over to your local drug store and see what bargains you can find!
7. Eat a Healthy Diet
Now you're probably sick of hearing this advice, but it's true. Your skin needs a healthy diet to look its best. You need to eat foods full of antioxidants and protein.
These minerals stimulate the growth of collagen which is essential for the prevention of wrinkles!
8. Drink Plenty of Water
During the summer months, you should always aim to drink eight glasses of water a day. This is because the heat of the sun dries out our skin, so to stay hydrated we need to drink more than usual.
9. Keep Clean
Now, this may sound a little patronizing but bear with us. During the summer months the temperature rises, and as we all know there is nothing bacteria loves more than the warmth.
Hence, we all need to make more of an effort to shower at least once a day, and to keep our towels, bed sheets, clothes, and makeup brushes fresh.
The last thing you want is to sport an unattractive skin infection due to lack of hygiene (which are sadly more common during the summer!)
10. Start Using Aloe
Using aloe during the summer months is one of the best things you can do to look after your skin. Not only does it have fantastic moisturizing properties but it also has nourishing anti-inflammatory agents.
We recommend using this product after exposing yourself to the sun; this is one of the easiest ways to calm your skin if it's burnt. Plus, it'll help prevent your skin appearing scaly and dry!
Did You Enjoy These Summer Skin Care Tips?
If you found these summer skin care tips useful, then we're confident you'll love the other features published on our 'beauty and fashion' blog.
Over there we discuss everything from finding an affordable springtime outfit to the benefits of natural beauty products. Enjoy!
Alternatively, if you have any questions or concerns about what you've read here, please feel free to reach out and contact me. All you need to do is fill in the contact form, and I'll get back to you as soon as I can.
Anything to Add? Leave a Comment!