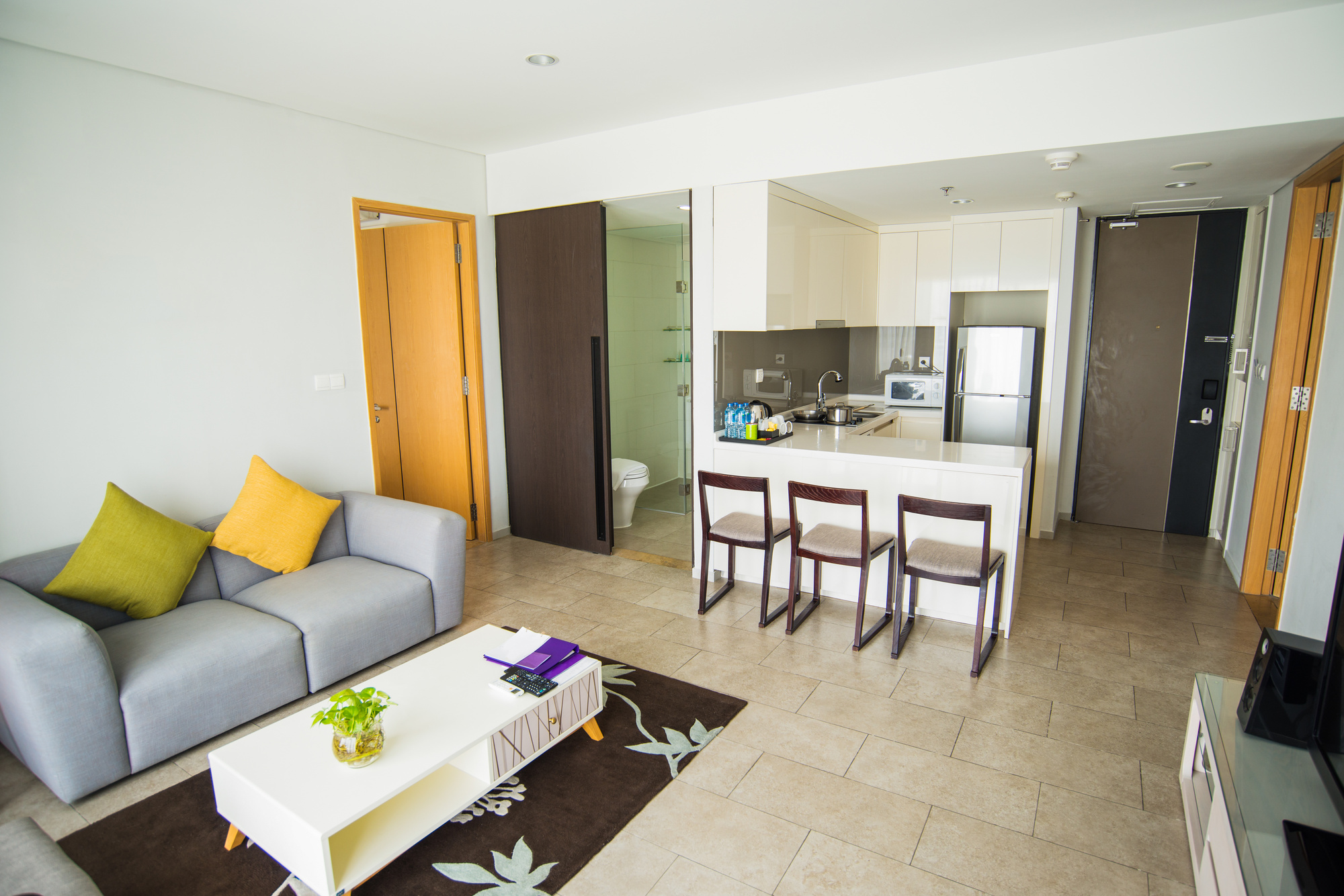 Getting an apartment for the first time is quite the adventure.
Whether you're transitioning from a college campus or your parent's place, this is your chance to spread your wings. Having a place to call yours is both a lesson in independence and an exciting, inspiring time.
Most people enter this stage with a few roommates by their side. They try out a couple different apartments, until eventually venturing out on their own.
If you're going through this, you're likely downsizing to a studio apartment.
Studios are the ultimate home for one person to reside in or for a couple to share. But, decorating a studio is definitely not the same as furnishing a house or setting things up in an apartment.
However, it can be just as fun if you know what you're doing!
Here are ten simple tips to keep in mind when moving into a studio apartment.
1. Walk the Studio a Few Times
Once you've decided on your new studio after browsing your options, visit the place that will become your future home. Take a second to walk around and really get a feel for the space.
This is best to do when the apartment is empty of all furnishings. If you're looking at a model, or at a studio apartment that the previous tenant hasn't moved out of, it can be hard to get creative juices flowing.
The point of doing a walk-through is to start putting design ideas together in your head.
Stand at different areas of the room and consider where you want the main pieces of furniture to be. These include your bed, dining area, and some sort of lounging space like a couch or an armchair.
2. Prioritize Function Over Form
As you're looking around, make sure all the things you want in your studio have a purpose. This keeps you from getting too cluttered and making your small space feel busy.
The best thing to think about if you aren't sure whether you really need something is function over form. This means to choose the furniture and decor items that work well for a studio apartment – which may not always be the most beautiful things you see in a store or online.
The silver lining, though, is that you get to make the most of your studio with the items that actually fit. Instead of trying to cram a huge bed or too many lounging pieces in your space, you get to establish a cohesive environment where everything adds value.
3. Create Levels in Your Space
One way to add value and make the most of a studio apartment is to create levels.
Turn your bed into a storage area by placing drawers underneath, or investing in a frame that comes with floor-level shelves already. Or, go up instead of down.
Add wall shelves somewhere in the room where you want to place photos, plants, candles, or books. Such shelves can be set up in a neat stack or row, or in a unique line that adds some depth to the room.
You can make use of hooks instead of shelves, as well as tall stands like a bookshelf or a leaning tower shelf rather than those that screw to a wall.
These are great in the entertainment section of a studio apartment where you plan to have guests, as bathroom organization, or for added aesthetics and function in the kitchen.
4. Make Storage Stylish
While you're thinking about all the ways to add more storage space, consider how it can add to (or possibly take away from) the interior design style you have going on.
Some shelves will work better if they are small and in a group, while others will be long statement pieces that you can put up and organize as you please. There is also a big difference in having wall shelves versus standing shelves.
Even if you get the same amount of storage from different options, each look is entirely unique. Take your time making the final plans for this step in order to make your studio apartment as cute and cozy as possible.
5. Use Color and Texture
Another design element to consider is the use of color and mixing certain textures.
White walls are a common canvas in most studios. You can choose to keep them as is for a clean, open look. Or, paint one of your walls an accent color to add some life and excitement to the space.
If your studio apartment agreement doesn't let you paint, get a wall decorating item that is bright and bubbly. This may be a big picture that you hang or a collection of little canvases and other wall items that catch your eye.
Play with different ideas before making a decision regarding this. The more you let your creative juices flow, the better everything will come together. Not to mention, the depth of the room and the way all the textures complement each other will align more.
6. Play with Visual Tricks
Color is just one way to make a room feel taller, wider, or overall more welcoming.
There are other things you can do to the walls of your studio apartment to enhance the look and feel. These are simple, affordable, and absolutely outstanding when you know how to pull them off.
The first trick to consider is to invest in tall, floor-length curtains.
Curtains that hang from the top of your windows to the floor make a wall look taller than it actually is. When a person looks at this and the rest of the studio together, the whole space looks more elegant and a bit bigger, too.
Another visual trick to have some fun with is the use of mirrors.
You definitely need at least one full-body mirror to give yourself an outfit check before you walk out the door. But, why not get a few smaller mirrors to create some dimension in your studio apartment?
This is as simple as hanging the mirrors up in a fun, interesting way. You may choose to place the mirrors opposite of where guests will sit, or behind them as something to look at when they first enter your space.
7. Get Creative
The thought of using mirrors as wall decor or getting big curtains may not have come to mind at first. But, these are just some of the unique ideas you can use to make your studio apartment everything you want it to be.
Studios often present the challenge of balancing beautiful design with making sure everything has a place and purpose. You want to get a look that is just right, without making it too busy or risking it being bare.
In particularly small spaces, you have to get creative to accomplish this.
Consider installing a hanging rack, or rolling in a standing rack, in order to have more room for your clothes. This looks fine against one of your studio's walls and provides the little bit of extra storage you may be missing.
Another fun idea you might want to use is actually the use of big furniture rather than a bunch of small things.
It sounds backward at first, but it actually works perfectly! Big furniture doesn't overpower a studio and make it look small – when used correctly, it can allude that the space is a bit bigger than it is.
You can gather more ideas by visiting friends who live in studios or trying out a different living situation for a little while before making your move. Start a Pinterest board or some other running list of design tricks you'd like to try.
Maybe even turn this learning experience into a mini vacation! Visit Myparisapartments.com for some travel inspiration.
8. Set Aside Room for Privacy
Whether you want to visually expand your space or not, make sure there is a place in your studio apartment that is meant for privacy. Most often, this is your bed and the immediate surrounding area.
Find a way to block this off that works for you.
Most studio dwellers put a bookshelf in between their bed and the rest of the room. Others install a privacy curtain to make this space a little more comfortable and luxurious.
Whatever method you choose, don't overlook this idea. Creating privacy in a space that is already small can be hard to do. But when you have guests over or a lot of things going on, you'll be glad to have established a special place to retreat to.
9. Budget, Budget, Budget
How are you supposed to make all your studio design dreams a reality?
By budgeting properly. Remember, moving comes with many costs.
There are the initial expenses of signing your studio apartment – which is usually first and last month's rent and a security deposit. There is also the matter of transporting your furniture, which will either be shipping costs or some sort of mover's cost.
Not to mention, you have to pay for your first grocery trip and get all the basics. Plus, something always comes up, so a little bit of extra cash to be prepared is worth accounting for.
10. Take Your Time
Chances are, you feel pretty overwhelmed after reading the previous tip.
Well, here's one that will settle your financial stresses – you don't have to pay for everything and furnish your studio apartment right away! This is a space that is yours to call home for quite some time.
As such, you can prioritize which decorating items come first and what will have to wait a bit.
Priorities vary for everyone, but as a good rule of thumb, you should have your bed set up and your kitchen stocked first. These are directly correlated to your health and quality of life because good sleep and eating well are so important.
Turn a Studio Apartment into Your Cozy New Home
Studio living is affordable, fun, and, honestly, something that everyone can learn from.
It teaches you how to manage a home by having all the different parts of a traditional setup in one place. You notice how things get messy much quicker and learn from the interior design challenges you have to first tackle when moving in.
For tips on making your move a breeze and budget-friendly, click here.
Anything to Add? Leave a Comment!