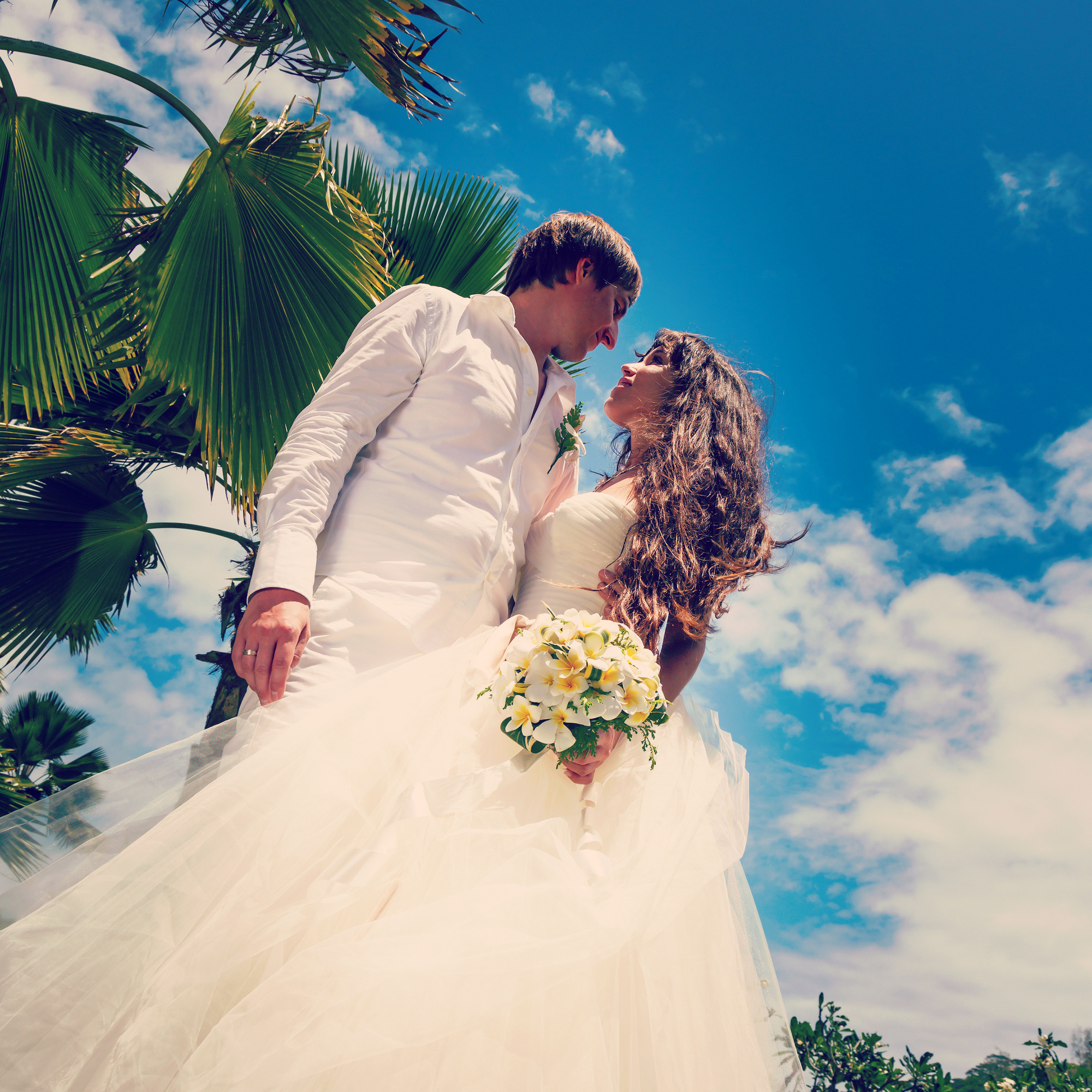 Saying "yes" to your groom-to-be's proposal is probably the easiest part of planning a wedding. Once the excitement of that moment dies down, it's time to budget, plan, and execute all your wedding ideas.
But, what if you don't have many ideas to begin with? It's hard to know exactly what you want between all the different styles of wedding dresses, bouquets, and even cake flavors.
Luckily, a little bit of inspiration can make your planning process much easier and Instagram wedding accounts offer plenty of inspiration.
Here are the top ten wedding accounts to follow for your big day.
1. Jose Villa – @josevilla
Jose Villa considers weddings to be perfect settings for fine art. After all, what could be more beautiful than celebrating love? He knows exactly how to frame any bride's special day.
While your budget may not be enough to book Jose, you can at least use his photography style as a guide. Show his account to the photographer you plan to have at your wedding. Talk in detail about the photo angles and filters used and which ones call out to you.
This will help your video and photo team get all the shots you want.
2. Our Labor of Love – @ourlaboroflove
If you live in a big city and are absolutely clueless about who to hire for photography, @ourlaboroflove is the Instagram wedding account for you.
This is a collective of various photographers and videographers in different cities – all of them specializing in weddings. Such a network of creatives is bound to lead you to the right people for the job on your wedding day.
Not to mention, their unique approaches to wedding photography will give you even more ideas. This may spark a thought on how to do your table settings or set up your walk down the aisle.
Every detail counts to create the perfect setting, and this Instagram account will show you how to get it all right.
3. Bash, Please – @bashplease
Speaking of having the best setting possible, check out @bashplease. This Instagram wedding account is all about creating gorgeous sets for any occasion.
Bash, Please has a track record of working in many different kinds of environments and using various styles of wedding themes. All you have to do is scroll through their account to see for yourself!
Who knows, one of their shots might be something you want to recreate on your own terms. There's no reason you can't get the right look for your ideal price.
4. The Venue Report – @thevenuereport
No matter how you decorate your dream wedding, much of the day comes down to the venue. The Venue Report was created to help lavish ladies keep an eye on beautiful destination venues.
But, there's no reason you can't use this account for ideas on what to look for in the venues around you!
Use this Instagram wedding account to help get you out of the mindset of a traditional wedding hall. At the very least, let it serve as inspiration for where to host the post-wedding party.
5. Stevi Auble – @heytherecupcake_
Wherever there's a party, there is some form of cake involved.
Stevi Auble knows a thing or two about weddings and sweet treats; she even wrote a book about it. Now, @heytherecupcake_ is the account she uses to document all the lovely eats she finds (and sometimes creates).
Her account will help you picture a cake tower in your mind, just the way you want it.
Or, she'll encourage you to step outside the lines and serve up small sweet treats like mini cupcakes or macaroons. These are all the rage at weddings, and allow people to eat and mingle with ease.
6. Moon Canyon – @mooncanyon
While guests are hitting the dance floor or heading for the bar, they will be taking pictures and looking around. Capture their attention with floral design ideas you've taken from Moon Canyon.
Moon Canyon is the go-to guide for all things table settings, bouquets, and more. If there is a flower involved, they've done it before.
Browse through all their creations for the ideas your wedding is missing.
7. Becky DeOiveira – @blushandbloom
If you've got all the flower arrangements covered except for the bouquet, don't save this detail for last. Think of it like the final piece of your outfit; as beautiful as your wedding dress may be, the bouquet ties everything together.
Get this detail just right with a little Insta-inspo from Becky DeOiveira.
She has been handmaking brides' bouquets for years. Although she likely won't be making yours herself, her creations will give you all the ideas you need to make your own.
8. Chic Parisien – @chicparisien
As much as one bouquet can make a big difference, it only holds attention for so long until people start looking at every detail of your dress. Make it a look to remember with the help of Chic Parisien.
Based in Miami, this boutique knows a thing or two about making wedding dreams come true.
Take a trip to this beautiful city to shop your bride-to-be heart out, and maybe practice some Spanish, too! Look for your anillos de boda here or make it a trip to discover all the best Latin food the area has to offer on top of wedding shopping.
Note: the bridal dresses at this high-end fashion store might be a far reach, but a girl can dream, right? Check out Chic Parisien's Instagram for all the style tips you need to create a look that is totally you – and totally affordable.
9. LOHO Bride – @loho_bride
Are you the bride who wants to change outfits between the ceremony and the party? Are you looking for just one look that is a little daring?
Get your style inspiration from none other than LOHO Bride. LOHO stands for League of Her Own, which is very fitting for a bride on her big day.
Create the ceremony and celebration that is all about you and your partner, regardless of rules or tradition. Do things your way and have fun in each part of the process with the help of this Instagram wedding account.
10. Hung Vanngo – @HungVanngo
When all is said and done, you still have to get ready!
There's nothing you can do about flowers or table settings anymore when the day finally arrives. But, you can spend as much time as you need to look perfect.
Plan your makeup beforehand to minimize your stress. Scroll through professional celebrity style artist, Hung Vanngo's, account to get a little inspiration.
Make Your Instagram Wedding Ideas Come to Life
Although the accounts above tend to be pretty extravagant, there's no reason you can't recreate their styles to have an elegant wedding of your own. Not to mention, you can accomplish all you want without spending more than you need!
Use your wedding budget to help you make ends meet and talk to your partner about what really matters and what doesn't.
For financial planning tips and tricks, click here.
Anything to Add? Leave a Comment!