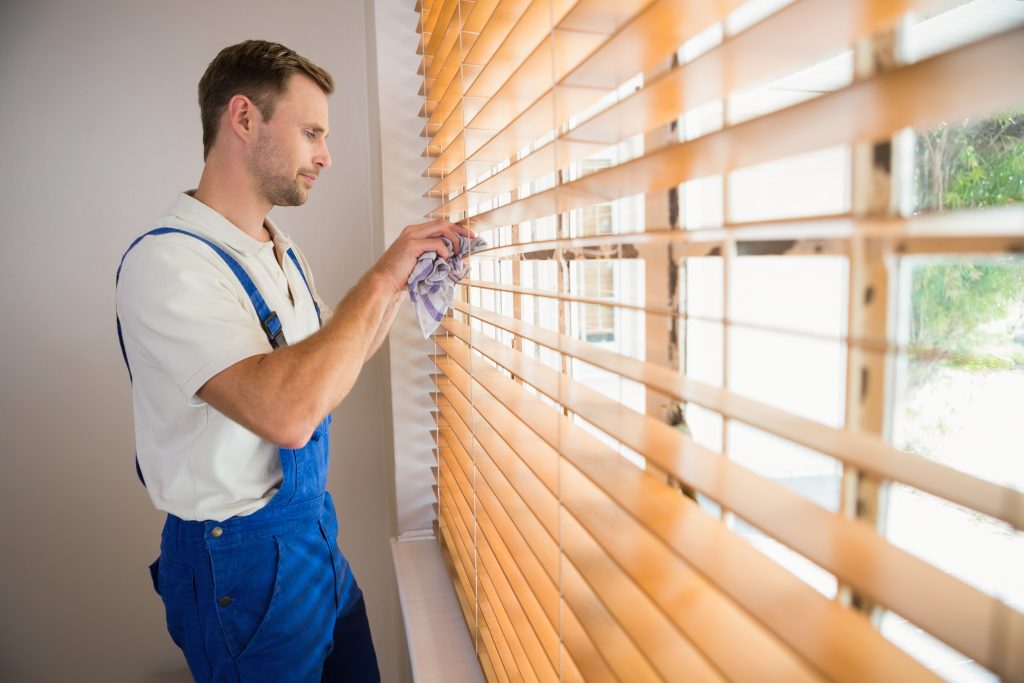 Have you cleaned your blinds lately? If you're like most Americans, clean blinds are fairly low on your list of recent accomplishments.
This poses several problems. Not only is it a disgusting secret waiting to be discovered–it's affecting the health of your family, and even your brain.
Clean Blinds In Five Easy Steps
You can change your cleaning habits for the better, starting right now. You'll be surprised at the 'clean feeling' and peace of mind clean blinds bring back to all of the naturally lit areas of the house.
Fortunately for us, we can achieve clean blinds in only five steps. Let's take a look.
Identify Your Blinds
Do you remember where you got your blinds? The principles of cleaning blinds are similar from one brand to another, but styles and materials–from bay window shutters to honeycomb blinds–can influence the ways you clean them.
We recommend visiting Shuttercraft for lots of details on shutters and blinds, and even some opportunities to shop for new ones.
Assemble Your Equipment
There are dozens of ways to clean blinds, but most two things in common–suction and cloth. Martha Stewart recommends vacuuming with a dust-brush tool for tis gentle touch and dusting with microfiber cloth, both of which prevent scratching on sensitive surfaces.
If you're not into chemicals, take a look at some DIY household cleaning hacks that get the job done. You might save some money, too.
Equipment matters, but your effort is the key to your success.
Clean With Safety
Though you may have a lot of blinds in your house, achieving clean blinds is fairly easy on a step-by-step basis:
Vacuum your blinds. Use the dust-brush tool as many blinds will easily dent or scratch.
Wipe your blinds. Use the cloth dry; or, make one cloth moist for spot cleaning, then wipe away moister with a dry one
Bathe your blinds. You need only bathe your blinds annually, but you can contact me for some helpful advice.
Touch Up The Extra Bits
Blinds have ropes, cords, and crevices that collect dust and dander. They often get neglected, even after a cleaning. You can use your existing tools to clean these areas, or employee smaller tools like cotton swabs and even polishes to touch up discolored areas.
Beware: special materials may require special cleaning materials to prevent damaging. Get online and see the manufacturer's website or consult the owner's manual to ensure you don't ruin their physique.
Plan For The Future
You've just learned how simple a process getting clean blinds can be, so why not make it a regular thing? It may sound corny, but we recommend setting long-term reminders using your mobile phone or other devices to clean your blinds every three-to-six months, as recommended by TODAY.
Since clean blinds don't require a lot of equipment, you can store your gear for the long-term and be ready in a moment's notice. You just solved a recurring problem with minimal effort required–good job!
Clean Blinds And More
For more details on clean blinds, life hacks or saving money on everything, contact me–I'll be glad to help.
Anything to Add? Leave a Comment!