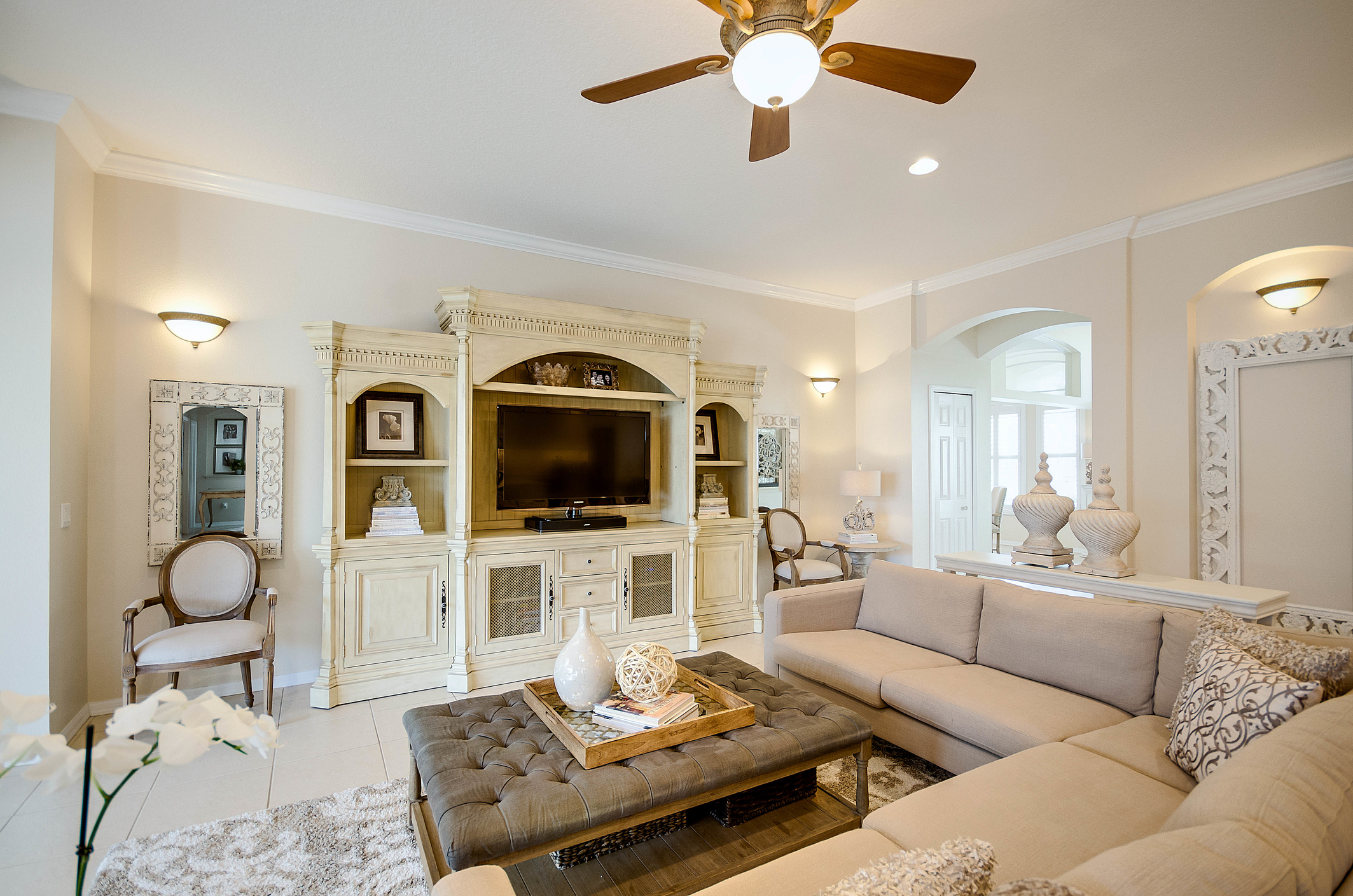 You don't need a designer to stage your home for a quick sale. Sure, you could hire an interior designer, but expect to pay anywhere from $50 to $200 per hour.
If you're selling your home, it's in your best interest to spend as little as possible so you can make a handsome profit in the end.
In this article, we'll give you a few designed to sell tips so you can skip the professionals altogether.
Home Staging Without Going Broke
"Can I really sell my house fast without spending a fortune?"
Yes! Here's how…
Spruce Up Your Yard
Your first task is to get buyers out of their car and in the front door. The best way to do that is with a little curb appeal. And a little can go a long way.
Give your home a fresh look by picking up debris in the yard like twigs and leaves or giving your outdoor furniture a quick wipe down. Don't forget to power wash your driveway!
Keep it minimal by removing any unnecessary items, but set the mood with some cheap string lights.
Remove (or Hide) Personal Items
Have you ever noticed in professionally staged homes all personal items are missing? Toys in the kid's rooms are minimal if there are any at all. Pictures on the walls are generic
Toys in the kid's rooms are minimal if there are any at all. Pictures on the walls are generic and closets are empty.
This is a good tactic if you can manage it. This allows buyers to imagine their stuff in those spaces, instead of their vision being cluttered by someone else's stuff.
You can rent a storage container or use spaces like a shed or garage to temporarily store your personal items. After all, you plan to move everything, so boxing up your non-essentials now will help ease the transition later.
Neutralize Your Home with Paint
A home that's designed to sell will allow buyers to envision themselves living there. To accomplish this, design your home like a Realtor would stage a house.
A good way to appeal to many different styles is to use neutral colors like white and beige.
You can also try touring a few model homes and open houses to see how the Realtor chose to stage it.
If your child's room is painted bright pink, consider grabbing a paint brush and giving it a neutral color. Same goes for any room in your home.
Fresh paint can go a long way when you need to sell your home fast.
Designed to Sell
Investing in the services of an interior designer can help sell your home fast, but not everyone has the means to afford it.
You can accomplish your needs without going broke. It's as simple as cleaning up the house and yard, packing away non-essential items, and adding a little fresh paint here and there.
You'll be receiving offers in no time! What are some of your favorite design tips? Were you able to sell your house without going broke on curb appeal and interior work? Please share your story in the comment below.
Anything to Add? Leave a Comment!