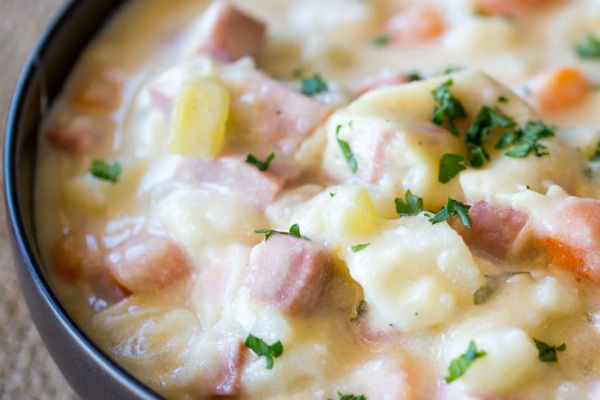 Slow Cooker Ham And Potato Soup Recipe!
Are you wanting to use your slow cooker rather than the oven on a lazy Sunday? If so, then you must try this Slow Cooker Ham And Potato Soup recipe! I recently tried this soup on a snowy day and my husband loved it. So, I'll be making this dish again and again. Want to make this recipe as well? If so, be sure to pick up the following ingredients:
8 cups russet potatoes
diced 1 yellow onion
diced 2 large carrots
peeled and chopped ½ cup chopped celery
2 8 ounce packages Cubed Ham
1 teaspoon Kosher salt
¼ teaspoon fresh cracked black pepper
¼ cup flour 4 cups chicken broth
1½ cups heavy cream
½ cup sour cream
For further directions on making this recipe, be sure to visit the Dinner The Dessert Webpage. Let us know what you thought of this dish in the comment section below, because we'd love to hear from you.
Anything to Add? Leave a Comment!