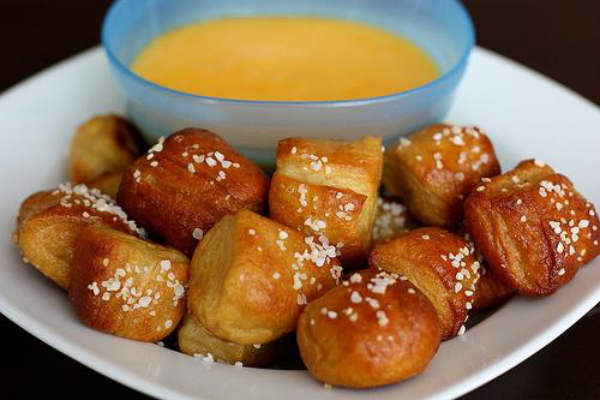 Homemade Soft Pretzel Bites Recipe!
Going to pretzel vendors can be pricey. I recently paid around $5 for a medium pretzel, which was too expensive for my budget. So, I recently found this Homemade Soft Pretzel Bites recipe and decided to give it a try. Long story short, I loved them. From now on, I'll make pretzels at home. If you'd like to try this yummy recipe too, be sure to have the following ingredients ready:
1 1/2 cups warm water
2 tablespoons light brown sugar
1 package active dry yeast (2 1/4 teaspoons)
3 ounces unsalted butter, melted
2 1/2 teaspoons kosher salt
4 1/2 to 5 cups all-purpose flour
Vegetable oil
3 quarts water
1/2 cup baking soda
1 whole egg, beaten with 1 tablespoon cold water
Coarse sea salt
For the cheese sauce:
½ Tablespoon unsalted butter
½ Tablespoon all-purpose flour
½ cup milk
8 ounces Cheddar cheese, grated
For more directions on making this yummy treat, be sure to visit the Two Peas & Their Pod Webpage for further details. Let us know what you thought of this recipe in the comments below.
Anything to Add? Leave a Comment!