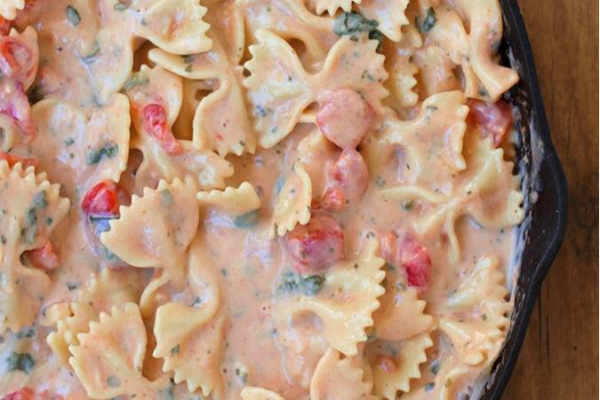 Creamy Tomato Pasta Vegan Recipe!
Whose in the mood for some tomato pasta this week? I sure am! If you are a pasta lover like my family, then you must try this delicious Creamy Tomato Pasta Vegan Recipe! Our family recently hosted dinner for a co-worker who was vegan and this dish was a major hit. If this dish sounds appealing to you as well, be sure to have the following ingredients ready:
8 oz dry pasta – such as farfalle
1-2 tbsp olive oil or buttery spread or oil spray
1 1/2 tbsp minced garlic
3 tbsp flour (spelt, white, or sweet rice flour)
1 tsp onion powder
1/2 tsp salt
1 1/2 tsp dried oregano
1 cup cashew cream or unsweetened creamer
1/4 cup Parmesan-type topping or nutritional yeast, optional
1 cup unsweetened milk of choice or additional creamer
1 can diced tomatoes, or 14 oz diced tomatoes
1 cup fresh or 1/2 cup frozen spinach, optional
For additional directions on making this pasta dish, be sure to visit the Chocolate Covered Katie Webpage for more details. Let us know if you enjoyed this recipe in the comment section below, because we love to hear from our readers.
Anything to Add? Leave a Comment!