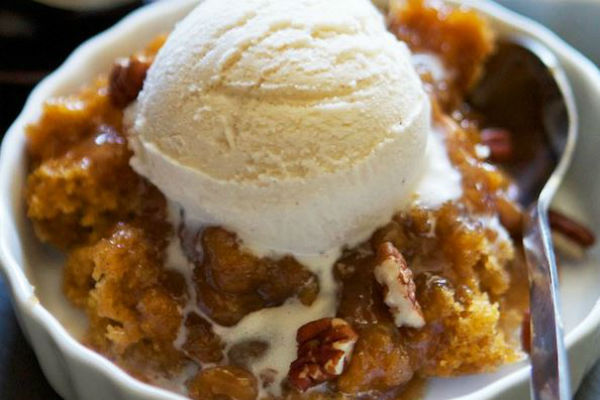 Pumpkin Pecan Cobbler Recipe!
I love all things cobbler, especially when its cold outside! They remind me of lava cake, which is my husband's favorite sweet treat. I recently tried this Pumpkin Pecan Cobbler dish, which was absolutely amazing. I never knew pumpkin, pecan, and ice cream tasted so amazing together. Want to make this pumpkin recipe as well? If so, you'll need to pick up the following ingredients:
1 cup + 3 tablespoons all purpose flour
2 teaspoons baking powder
1/2 teaspoon salt
3/4 cup granulated sugar
1 teaspoon cinnamon
1/2 teaspoon nutmeg
1/2 teaspoon cloves
1/2 cup pumpkin puree
1/4 cup milk
1/4 cup melted butter or vegetable oil
1 1/2 teaspoons vanilla
1/2 cup granulated sugar
1/2 cup brown sugar
1/4 cup chopped pecans
1 1/2 cups very hot water
For additional directions on making this recipe, be sure to visit the Lauren Latest Webpage. Let us know what you thought of this treat in the comment section below. We love to hear from our readers.
Anything to Add? Leave a Comment!