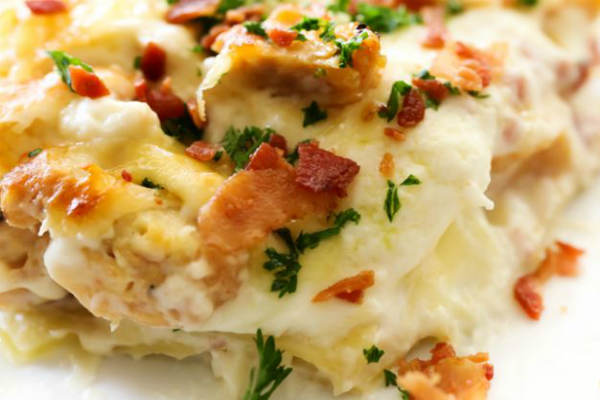 Chicken Cordon Bleu Lasagna Recipe!
Want a new take on lasagna for dinner tonight? If so, this Chicken Cordon Bleu Lasagna recipe looks yummy and relatively easy to make. I haven't made this recipe for my family yet, but I love the traditional Chicken Cordon Bleu dish. Thereby, I know that my family will love this lasagna as well. Want to make this too? If so, here are the ingredients you'll need:
9 lasagna noodles, cooked according to package directions
4½ cups cooked and chopped chicken chicken, grilled or rotisserie chopped
1½ cups cooked and diced ham
1½ – 2 cups cooked and chopped bacon
3 cups Swiss cheese, grated
½ cup butter
½ cup flour
4 cups milk
1 teaspoon garlic powder
1 teaspoon garlic salt
½ teaspoon salt
¼ teaspoon white pepper
16 ounces cream cheese, softened
For additional directions on making this cordon bleu recipe, be sure to visit the Chef In Training for more details. Let us know what you thought of this recipe in the comment section below, because we'd love to know.
Anything to Add? Leave a Comment!