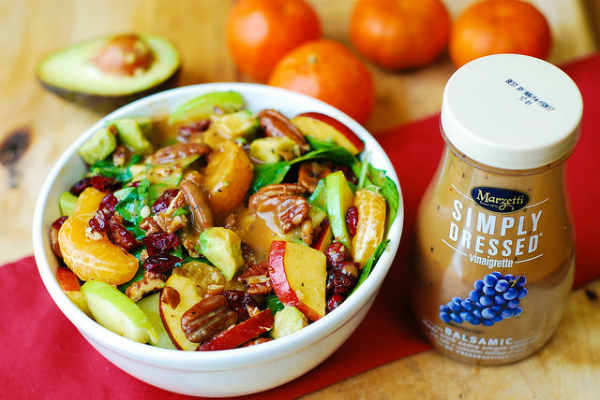 Apple Cranberry Spinach Salad Recipe!
During the summer months, I love eating fresh greens! I found this delicious Apple Cranberry Spinach Salad recipe and just had to share with our readers. This salad contains pecans, a personal favorite. This salad was a huge hit at my local barbecue! Want to make this light dish as well? If so, here are the ingredients you'll need:
10 oz fresh baby spinach (about 10 cups of torn leaves)
1 Granny Smith apple, sliced
1 Gala apple, sliced
1 or 2 avocados, sliced
1 cup pecan halves
2 whole fresh mandarin oranges, peeled; or 1 can of mandarin oranges, drained
1/2 cup dried cranberries
Marzetti® Simply Dressed® Balsamic Vinaigrette Dressing
For additional directions on making this salad, be sure to visit the Julias Album Webpage. Let us know what you thought of this recipe in the comment section below. We'd love to know.
Anything to Add? Leave a Comment!