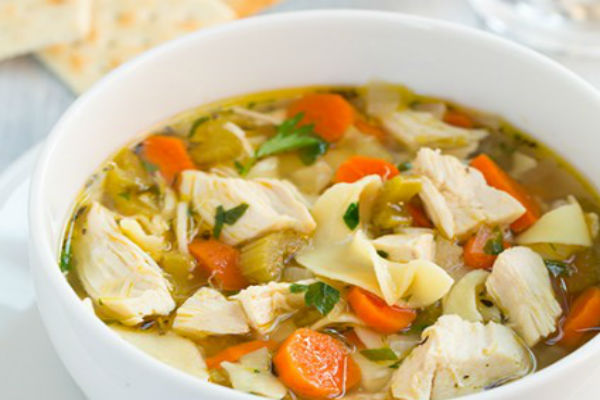 Slow Cooker Chicken Noodle Soup Recipe!
In the mood for soup this weekend? If so, you can make this delicious Slow Cooker Chicken Noodle Soup recipe! I love using the slow cooker during these summer months because it keeps our house cool. Using the oven can really heat up our home. Want to make this dish as well? If so, be sure to pick up the following ingredients:
1 1/2 lbs boneless skinless chicken breasts
5 medium carrots, peeled and chopped (1 3/4 cups)
1 medium yellow onion, chopped (1 1/2 cups)
4 stalks celery, chopped (1 1/4 cups)
3 – 5 cloves garlic, minced
3 Tbsp extra virgin olive oil
6 cups low-sodium chicken broth (3 – 15 oz cans)
1 cup water
3/4 tsp dried thyme
1/2 tsp dried rosemary, crushed
1/2 tsp dried sage (optional)
1/4 tsp celery seed, finely crushed*
2 bay leaves
Salt and freshly ground black pepper, to taste
2 cups uncooked wide egg noodles
1/4 cup chopped fresh parsley
1 Tbsp fresh lemon juice
Saltine crackers or parmesan cheese, for serving
For additional directions on making this soup, be sure to visit the Cooking Classy Webpage. Let us know what you thought of this recipe, we'd love to know.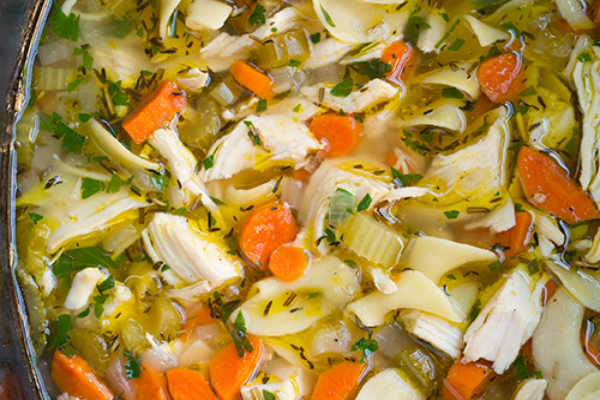 Anything to Add? Leave a Comment!