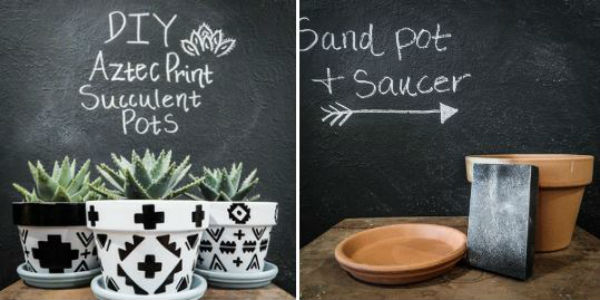 DIY Aztec Print Succulent Pots!
This DIY project reminds me so much of my grandmother! She had tons of beautiful painted pots and decor around her kitchen growing up! I found this DIY Aztec Print Succulent Pots idea and just had to share, because it is almost summer! Want to make this project too?  If so, you'll need the following:
Terra Cotta Pots and Saucers
Multi-Surface Black Paint Pen
White Flat/Matte Spray Paint
Fine/Medium Grit Drywall Sanding Sponge
Gold Flakes
Gilding Adhesive
All-Purpose Sealer
Foam Brush
Let us know your craft turned out and what you plan to pot with them in the comments below! I think using small pots would be great for the herbs in the kitchen! For additional directions how to make this craft project, visit the Love & Specs Webpage! 
Anything to Add? Leave a Comment!