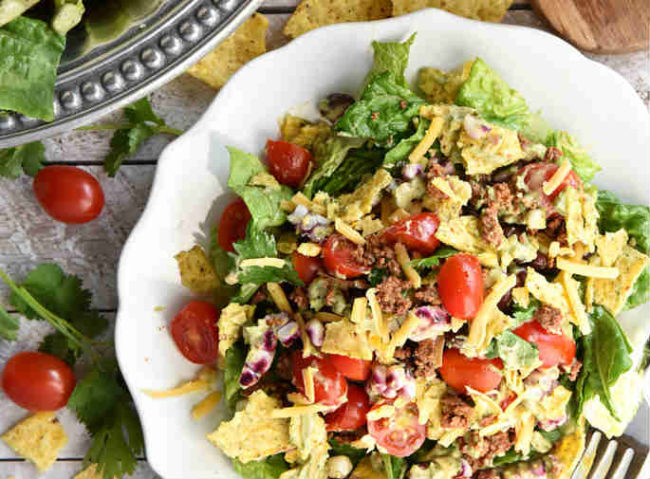 Ultimate Taco Salad With Avocado Ranch Dressing Recipe!
My daughter absolutely loves taco salad! She asks for this meal monthly. So, my husband and I decided to try a new recipe and my family enjoyed it more. You must taste this Ultimate Taco Salad With Avocado Ranch Dressing dish! Intrigued? If so, be sure to pick up the following ingredients:
For Taco Salad:
1 pound ground beef
3 tablespoons Homemade Taco Seasoning (OR one packet store-bought seasoning)
1 large head lettuce, chopped (green leaf, iceberg, or 2 small heads hearts of Romaine)
1 (15-ounce) can black beans, rinsed & drained
2 cups fresh corn (sliced from two roasted cobs)
1 pint grape tomatoes, halved
2 cups grated cheddar
Crushed tortilla chips
Optional garnishes: sliced pickled jalapeños, sliced black olives, sour cream, salsa, chopped cilantro
For Avocado Ranch Dressing:
2 large avocados
1/2 cup Ranch dressing (homemade or bottled)
3 tablespoons milk or buttermilk (plus more, as needed, to achieve desired consistency)
3 tablespoons chopped cilantro leaves
1/4 teaspoon garlic salt
Freshly ground black pepper
For further instructions on making this recipe, be sure to visit the Five Heart Home Webpage! Let us know what you thought of this recipe, we love to hear from our readers.
Anything to Add? Leave a Comment!