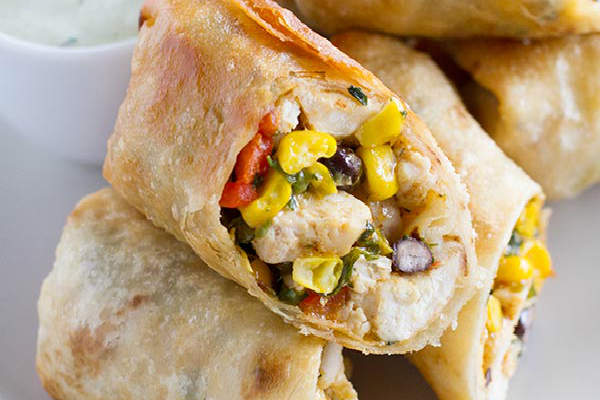 Southwestern Egg Rolls Recipe! A Family Favorite!
My family loves these Southwestern Egg Rolls! We ate something similar at a restaurant and searched the internet for a copy-cat recipe of sorts. This is the one we found and love! These egg rolls are filled with chicken, corn, beans, spinach, and tex-mex spices. What is better than that?
Want to make these as well? If so, you will need the following ingredients:
Egg Rolls
1 tablespoon vegetable oil
1½ lbs boneless, skinless chicken breasts,cut into small bite-sized pieces
2 tablespoons minced red bell pepper
2 tablespoons minced green onion
½ cup frozen corn
¼ cup canned black beans, drained and rinsed
2 tablespoons frozen spinach, thawed and drained
2 tablespoons diced jalapeños
½ tablespoon fresh parsley, minced
½ teaspoon cumin
½ teaspoon chili powder
¼ teaspoon salt
dash of cayenne pepper
¾ cup shredded Monterey Jack cheese
5 8-inch flour tortillas
vegetable oil, for frying
Avocado Ranch Dipping Sauce
¼ cup smashed, fresh avocado (about half of an avocado)
¼ cup mayonnaise
¼ cup sour cream
1 tablespoon buttermilk
1½ tablespoons white vinegar
⅛ teaspoon salt
⅛ teaspoon dried parsley
⅛ teaspoon onion powder
dash of dried dill weed
dash of garlic powder
dash of pepper
How did you like this recipe? Let us know in the comments below. For additional directions on making these Southwestern Egg Rolls, be sure to visit the Taste and Tell Blog!
Anything to Add? Leave a Comment!