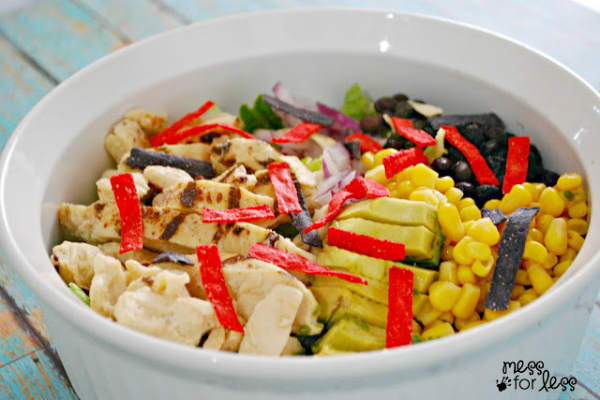 Southwest Chicken Salad Recipe!
Salad can be the perfect meal during those hot summer days. I love going to a farmer's market and picking up fresh ingredients! My family loves this Southwest Chicken Salad recipe, which is great for picky eaters. Want to make this recipe yourself? If so, here are the needed ingredients:
4 cups of romaine/iceberg mix
1 package Foster Farms® Refrigerated Grilled Chicken Breast Strips
½ cup black beans, drained and rinsed
½ cup corn, drained
1 avocado, sliced
⅓ cup red onion, chopped
½ cup southwestern dressing or ranch dressing
½ cup tortilla strips (optional)
Let us know how your salad turned out and if your family enjoyed it. Feel free to share your thoughts in the comments below, because we'd love to hear from you. For additional directions on how to put this salad together, be sure to visit the Mess For Less Webpage!
Anything to Add? Leave a Comment!