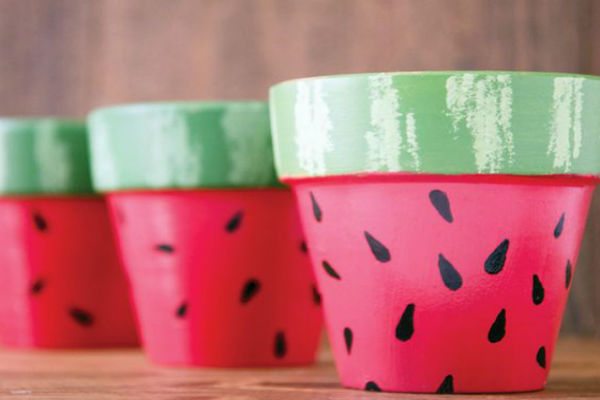 Watermelon Pots DIY Project! Perfect for Summer!
This DIY project reminds me so much of my grandmother! She had tons of beautiful watermelon dishes and decor around her kitchen growing up! I found this Watermelon Pots DIY and just had to share, because it is almost summer! It is cute too! You'll need the following:
Terra Cotta Pots (any size)
Fine Tip Sakura Paint Pen
Paint Brushes
Marta Steward Satin Acrylic Paint (Scottish)
Marta Steward Satin Acrylic Paint (Habanero)
Please Note: these where the colors that looked the most like a watermelon. You may find cheaper paints at your local hobby store. Just make sure it is satin acrylic paint.
Let us know your craft turned out and what you plan to pot with them in the comments below! I think using small pots would be great for the herbs in the kitchen! For additional directions how to make this craft project, visit the Darby Smart Webpage!
Anything to Add? Leave a Comment!