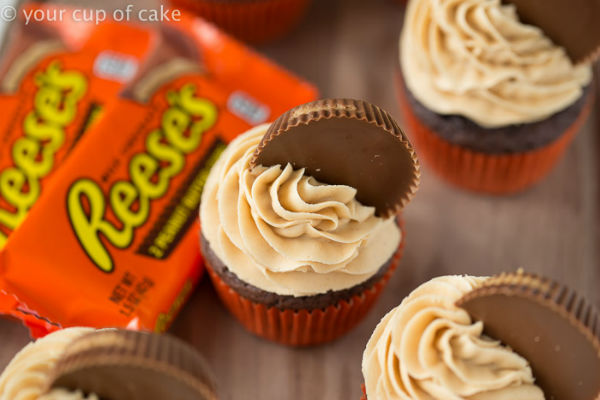 Reese's Peanut Butter Cupcakes Recipe!
Are you craving a Reese's candy bar? If so, why not try this flavor in a cupcake? No joke! I've made this yummy sweet with my family loads of times and they've enjoyed it immensely. It tastes just like the candy bar, but in cupcake form. Want to make this too? If so, you'll need the following items:
Chocolate Cake:
1 1/2 C. all-purpose flour
1 C. unsweetened cocoa powder
1 tsp. baking soda
1 1/2 tsp. baking powder
1/2 tsp. salt
4 eggs, at room temp
1 C. sugar
1 C. brown sugar, packed
2/3 cup oil
1 C. buttermilk or milk
1 Tbsp. vanilla extract
Peanut Butter Frosting:
1/2 C. butter, softened
1/2 C. creamy peanut butter
3 tsp vanilla extract
1-2 Tbsp. milk
3-4 C. powered sugar
For further directions on how to makes these Reese's Peanut Butter Cupcakes, be sure to visit the Your Cup of Cake Recipe! Let us know how your cupcakes turned out, we'd love to know! What different cupcakes recipes have you found lately?
Anything to Add? Leave a Comment!