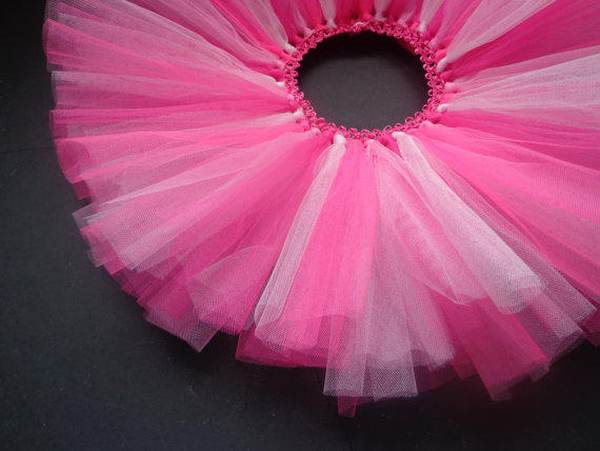 These DIY tutus are so cute! They are good for all ages from babies to young girls.  They can be used for dress up, a cute outfit for photos, birthdays, or color coordinated for a holiday outfit.  You can find the supplies at at craft store and the tutu can be made in an afternoon or less.  Scroll down for the instructions!
Supplies:

Tulle (either on spools, or by the yard) in your desired color
7/8″ ribbon in your desired color
Scissors (or rotary cutter and mat)
Measuring tape
Instructions:
Measure the child's waist, as well as from the waist down to the point where you'd like your tutu to fall.   The measurement of your child's waist is the measurement for the ribbon. And the measurement for how long you want the tutu is needed for the length of the tulle.
Cut your strips of tulle. (tulle on spool is recommended) (If you buy tulle by the yard cut it all into six-inch wide strips before cutting the strips to the needed length). You can use a little or a lot of tulle, it's up to you. To make fluffy and full tutus, use about 75 yards of the tulle on spools.
To cut the length of the tulle measure twice the length you previously measured. (IE: if you previously measured 12 inches down, your strips will be 24 inches long) Cut the tulle into strips and set aside.
Cut your ribbon. Add 48 inches to your waist measurement and cut the ribbon this length. This will ensure nice, long ends to tie a pretty bow with. Heat seal the ribbon ends with a lighter so they don't fray, but if you don't mind a little fraying you can skip this step.
Start knotting on your tulle. To make super fluffy tutus, use three strips of tulle for each knot. Gather your three strips together, fold in half and slip the folded part underneath the ribbon. Grab the two long sides of the tulle and bring them up through the fold, pull tight, and slide all the way toward the left of your ribbon.  Continue until you have reached the desired amount of tulle for your tutu.
Leave about 10 inches of loose ribbon on each side of the tied tulle to tie a good size bow on your little princess.
You're done! You can trim up the bottom if you'd like, but I like the not-so-perfect look of it when it's finished so I don't do any trimming.
Thanks, simplyrealmoms for the step by step instructions!
Anything to Add? Leave a Comment!