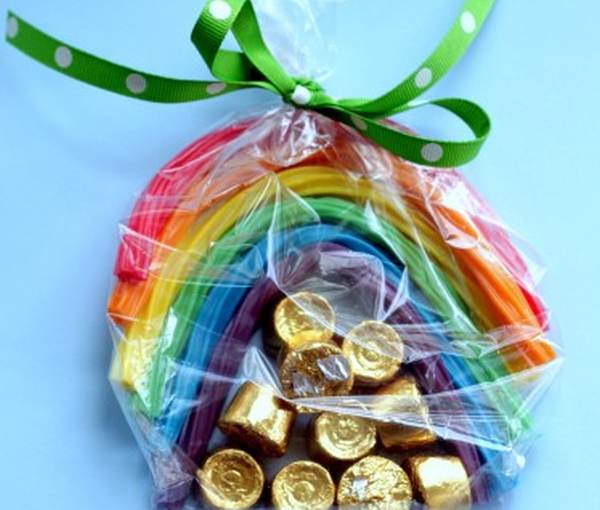 Kid Friendly Recipes for St. Patrick's Day
Oh I love getting the kiddos in the kitchen and getting them involved in helping me cook, set up for dinner, and clean up from dinner ;).  St. Patrick's day is right around the corner and you have just enough time to get these sweet treats made.  They could be passed out in class, office, or to your closest friends.  These are so cute and super tasty.  Scroll down and comment below which is your favorite idea!! I love your feedback!!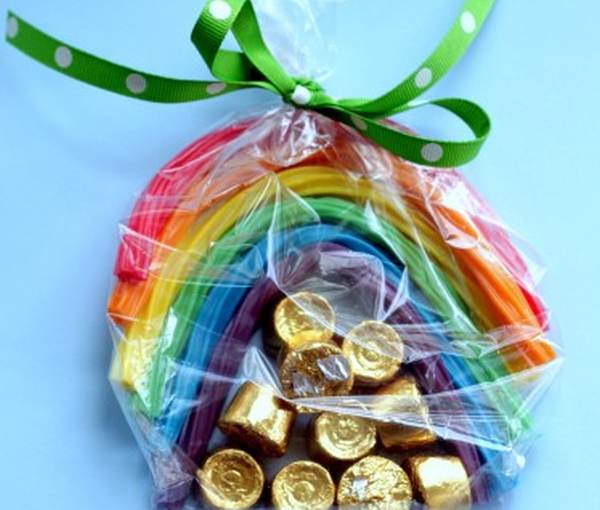 Ingredients:
Rolos
Rainbow Twizzlers
crafty cellophane treat bags,
and green ribbon.
Instructions:
Then take a handful or Rolos and pop them into a cellophane treat bag.
With the bag laying flat, fold the purple piece of licorice into a rainbow shape and slip it into the bag.
Repeat with the blue, green, yellow, orange, red pieces of licorice, making your rainbow.
Tie bag with an adorable green ribbon

1/4 cup of butter
4 cups of soft marshmallows
5 cups of Rice Krispie cereal
1/2 teaspoon of vanilla extract
green food coloring (optional)
approximately 3/4 cup of Lucky Charm's marshmallows – My kids and I picked them out of the Lucky Charms cereal box and set them in a bowl until we were ready to use them. Heaven help the person who pours themselves a bowl of Lucky Charms sans marshmallows! (hehehe! I'll blame it on the leprechaun!)
Instructions:
Melt butter over low heat until completely melted.
Gradually add marshmallows and stir often to avoid burning them.
When marshmallow/butter mixture is completely melted, add 1/2 teaspoon of vanilla and your green food coloring and mix well.
Remove from heat and stir in your Rice Krispie cereal.
Once mixture is mostly combined, stir in the Lucky Charm's marshmallows.
My kids and I picked them out of the Lucky Charms. I
f possible, store in an air tight container and they will stay softer longer! A ziplock bag works great!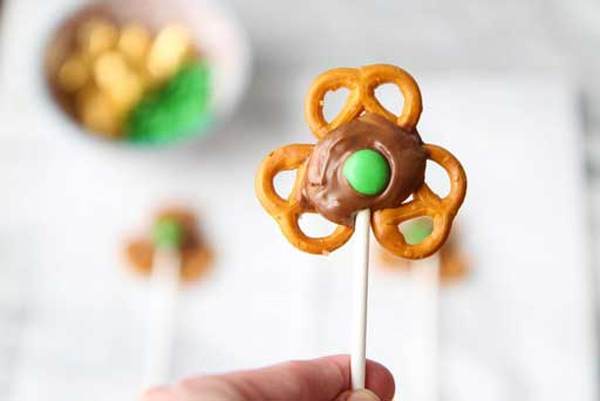 Shamrock Pretzel Pops
Ingredients:
• 1 bag of plain M&M's (have your child help you sort all the green ones out for this treat)
• 1 bag of mini pretzels (regular or gluten-free)
• 1 bag of Rolos
• Wilton Lollipop Sticks
• Parchment Paper
Instructions:
1. Preheat your oven for 350 degrees. Line a baking sheet with parchment paper and assemble your pretzels into a clover shape as shown above.
2. Add a Rolo in the center of each of your clovers. Gently take your cookie sheet over to your oven and slide your cookie sheet into the oven. Bake for 3 minutes, or until the Rolo has just begun to melt.
3. Pull out the cookie sheet and carefully insert a lollipop stick in through the Rolo while carefully placing an M&M in the center. Repeat until finished. It's important to do this step while they are still warm, as these harden quickly once they cool.
4. Allow them to cool fully before removing from the cookie sheet and carefully peel them off of the parchment paper.
Anything to Add? Leave a Comment!