Copper is one of the latest trends.  I love the look of plants and copper combined.  These planters are fairly easy to make, and it's structure seems to be pretty forgiving and pliable to how you would like it to look.   These planters are good to hang, or set out onto the table or mount onto some re-purposed wood. The possibilities are endless!!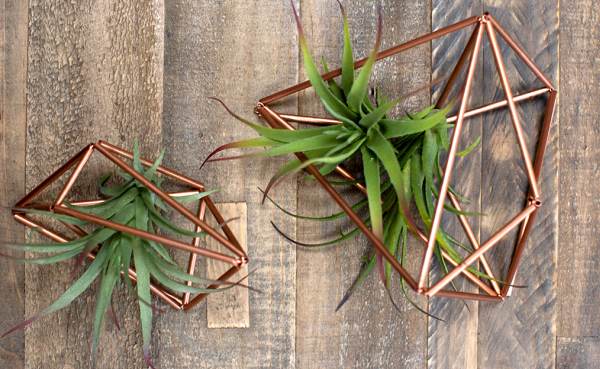 You will need 3mm copper tubing which we cut into a variety of lengths
There really are no rules here so embrace your creativity and know that you can't really go wrong!
Cut a total of 10 pieces for our small hanger with lengths ranging from 5.5cm – 11cm.
The larger copper plant hanger is made up of 14 pieces of copper pipe ranging in length from 8-15cm.
To create the 3D shape with copper tubing thread it with a matching copper wire, puling it together to form the 3D shape and tucking the remaining wire back into the tube.
It is suggested you play around and get your shape right before you trim the copper wire down!
Pop one or two faux air plants inside, then either sit them on a surface or hang them with clear wire from your ceiling.
Anything to Add? Leave a Comment!