I had it in my mind to make these heart shaped cherry pies for my friends for Valentines Day! I will most likely sub the pie crust for a gluten free pie crust for my friends with gluten sensitivities. As I was searching for a recipe to make I stumbled upon the following heart shaped sweet treats perfect for this weekends festivities!  And now that I think about it all of these can be made gluten free! If only they can be sugar and calorie free.. am I right? I hope you enjoy!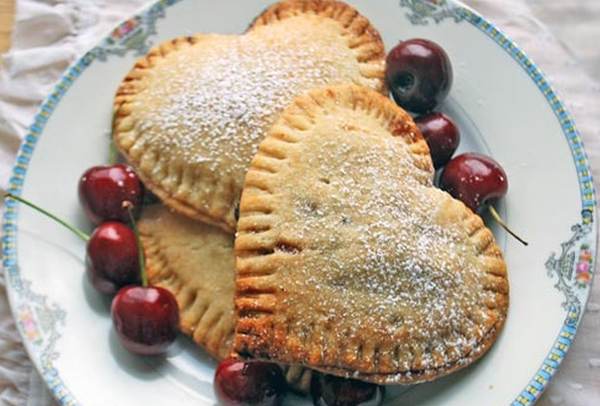 Mini pastries for Valentine's Day
Ingredients
pie dough
fresh cherries, chopped
ricotta cheese
sprinkle of sugar
1 TBSP butter, melted
Instructions
Preheat oven to 375 degrees. Line your baking sheet with parchment paper.
Roll out your pie dough (I like to do this between 2 sheets of plastic wrap). Cut out shapes with cookie cutter.
Sprinkle and stir the sugar with the chopped cherries in a bowl.
Lay out your heart cut outs on the baking sheet. Spoon on some fresh ricotta cheese, then spoon on the cherries. Lay down the top dough, seal to press with a fork.
Brush the top with melted butter.
Bake for about 15 minutes or until mini hearts are golden brown. The baking time will largely depend on the thickness of your pastry dough and your oven. Just keep close watch.
Cool for 5 minutes, then transfer to a wire rack. Dust with powdered sugar if desired.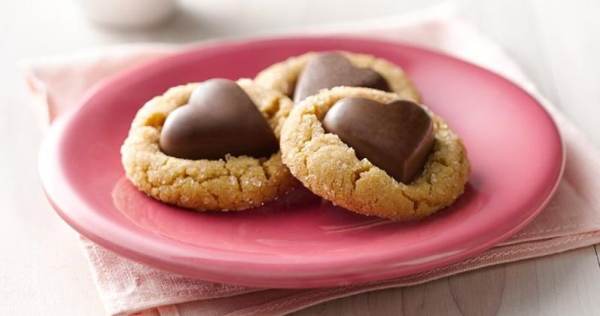 Chocolate Heart Peanut Butter Cookies
Serves: 36
Ingredients:
1 package peanut butter cookie dough
36 heart-shaped milk chocolate candies
Instructions:
Shape dough into 36 (1-inch) balls; roll in sugar.
Bake following cookie dough instructions. Immediately press chocolate candy into top of each cookie.
Remove from cookie sheets to cooling racks.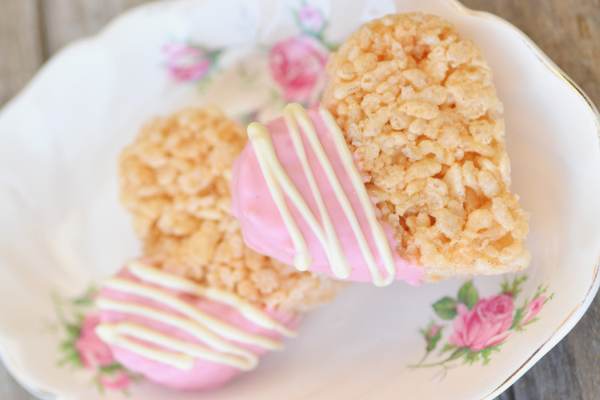 Rice Crispy Treat Hearts
Serves: Depends on the size of the heart cookie cutter
Ingredients:
1/4 cup butter
250g or 1 package (about 40 regular) marshmallows or 5 cups miniature
1/2 tsp. vanilla extract
6 cups Rice Krispies Cereal
Melted chocolate wafers or chips (we used Belgium wafers in strawberry and vanilla)
Instructions:
Melt butter in a large saucepan over low heat. Add marshmallows and stir until completely melted.
Stir in vanilla. Stir in Rice Krispies cereal until well coated.
Using a lightly buttered spatula, press into a buttered 3.5 L pan.
Turn pan over onto a cutting board. Mixture should release easily from pan.
Use a heart shaped cookie cutter to make Rice Krispies Hearts
Melt pink chocolate wafers using a double boiler.
Dip half of Rice Krispies Heart into chocolate. Give it a tap to remove excess chocolate .
Place chocolate covered hearts onto a waxed paper lined baking sheet.
Drizzle white chocolate over dipped portion of Rice Krispies Heart.
Thank you, lottie london, Betty Crocker, and Intimate Weddings!
Anything to Add? Leave a Comment!