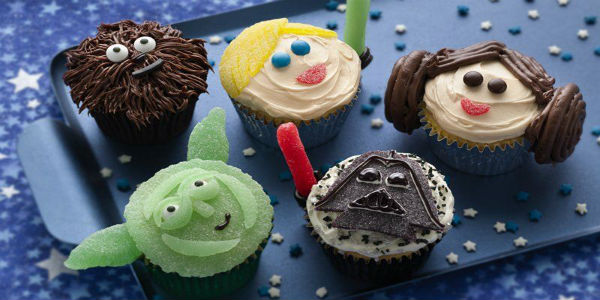 Star Wars Cupcakes Recipe! Use the Force!
Calling all Star Wars fans! We have an adorable Star Wars Cupcakes recipe, which would be fun to make at any occasion! My family made these cupcakes last weekend and had a blast! Ours did not look as pretty as those pictured above, however, we had lots of fun! If you have young children or are a Star Wars fan yourself, then you must try and make this treat! Ingredients:
1 box Betty Crocker SuperMoist yellow or devil's food cake mix
Water, vegetable oil and eggs called for on cake mix box
1 container Betty Crocker Rich & Creamy vanilla frosting
Ivory or yellow gel food color
Decorating bags with tips
1 container Betty Crocker Rich & Creamy chocolate frosting
Multicolored jumbo gumdrops (red, green, black)
Miniature candy-coated chocolate candies
Peppermint patty candies
Pretzel sticks
Candy eyeballs
Black edible gel pen
Black licorice
Let us know what you thought about your cupcakes and how they turned out!  For additional details on how to make this Star Wars themed treat, click here!
Anything to Add? Leave a Comment!