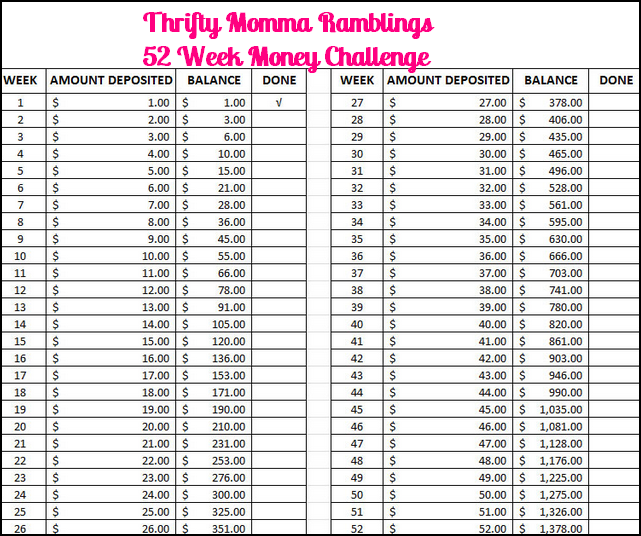 You can print out the 52 Week Savings Challenge PDF HERE
So, I am sure you have seen so much hype about the 52 Week Money Savings Challenge all over social media. Some people have also modified it to save backwards where you start with week 52 socking away $52 and then taking away $1 each week so at the end of the year you only need a $1. Honestly either way works but only IF you stick with the plan. Many people lose their resolve to save and forget all about it.
I prefer to do it the way the plan was intended and I will tell you why. Many of us can easily save $1 to start with and then week 2 just $2 more saved. If you print out the sheet then you will see your savings growing weekly. This is called the snowball effect. Do something small and stick with it and before you know it, it's grown into a substantial amount! It keeps you motivated to stick with it and you might decide to add even more each week! This is great not just for Christmas but maybe a Vacation fund or just to have an emergency fund. Life happens and so many times we aren't prepared for a flat tire, or needing a new hot water heater or junior needs a new pair of eyeglasses. The best part of this plan is that by the last week, you will have saved $1,378.00!
Many people also question this is great but I don't work or I can barely make ends meet now. I am showing people how they can make real and legit money by taking surveys, testing/reviewing products, and signing up for free items and entering giveaways. These survey sites below are all legit and real people are making real money to help pay for extras like a vacation or Birthday or Christmas gifts!
I signed up but I don't qualify for anything? Make sure you are filling out your profiles in full and taking polls and pre-qualifying surveys. Sometimes these sites are looking for a certain demographic. I have lots of readers qualifying and earning money!
SITES TO JOIN and 100% FREE TO JOIN
Springboard America
Opinion Outpost
instaGC
Harris Poll
Valued Opinions
Epoll
RewardTV
Inbox Dollars
NPD VIP Voice
MySurvey
If you see a site that you use and make money with then please comment below so I can add it to the list!

Anything to Add? Leave a Comment!