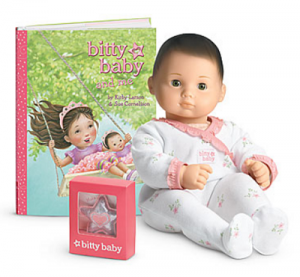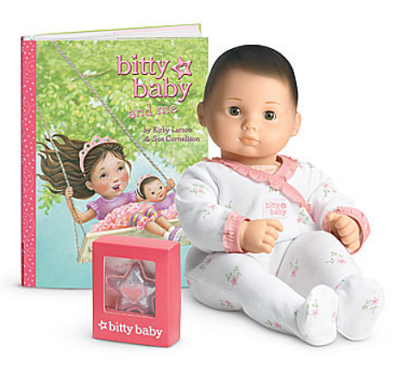 American Girl became popular in the 1990's and my nieces all had at least one doll. When the original Bitty Baby Doll first appeared, they also had to have own. These dolls are very well made and easy to play with and mimic a real doll as their eyes close when laid down. You can change them and they also come with a diaper. The problem with the dolls was that it didn't offer many options. Some girls probably felt left out as their dolls really didn't look like them.
American Girl received that message and has revamped the entire line for 2013 and have added more options to customize the Bitty Baby doll. There are 11 yes eleven options with light skin to dark skin and different eye plus hair color combinations. I was able to make my own and I choose light skin, brown hair, and green eyes as I think my daughter would have looked more like me. The doll is gorgeous. I wished I had a daughter as she would definitely have one of her own! These are dolls that will last for years. My nieces are now in college and still have their dolls.
Each doll is made from soft cloth body and and her head and limbs are made of smooth vinyl. Each one is 15″ tall and they come with:
A white sleeper with scattered pink stars and a mock-wrap neckline trimmed with a ribbon ruffle
A soft cloth diaper
A hardcover Bitty Baby and Me picture book that brings her story to life
A sparkly wishing star, just like the one from her book
The price tag is $80 but I know these dolls are well made and my nieces still love their dolls. They plan on passing them down to their own children one day. You cannot put a price tag on that.
Disclaimer: I was NOT compensated to write this review and all opinions are 100% my own!
Anything to Add? Leave a Comment!