Just Dance 4 was recently released! I love the Just Dance games! I am so excited to see the newest release of Just Dance 4 video game! The music is so much fun to dance to either as a group or by myself. I also like that each game has a mix of newer hits and older hits. Just Dance is a great game for the whole family to enjoy!
Each year for Christmas my family has a dance competition. We pair off in teams and the last one standing wins! We don't give each other prizes but more for bragging rights. My nieces always try to out dance, but when it comes to the older songs where you have to do "The Twist" I always dominate them! It is so much fun to play for groups and even my son really enjoys it. Even better is we are all getting a good workout, and the kids do not even realize they are working out as it is so much fun. I know I always work up a great sweat by just dancing!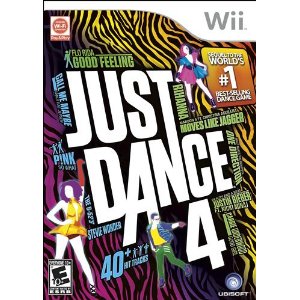 Right now you can get Ubisoft Just Dance 4 Video Game on Amazon.com as the Gold Box Deal of the Day for only $22.99! WOW! This is an awesome sale but it's only good for today at this HOT Price! This game is great for all age groups as my mom even dances to some of the oldies on the game. It is so much watching everyone dance and playing together. This will be the perfect gift either for someone else or even for yourself!
So have fun dancing and play this game at your next party or throw a dance party! You will have fun Just Dancing the night away!
Anything to Add? Leave a Comment!