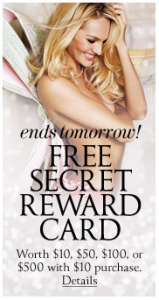 HOT DEAL at Victoria's Secret!
Get a Secret Reward Card with any $10 purchase online! Hurry as this ends tomorrow on 11/28/12 at 11:59 PM EST!
Each card is worth anywhere from $10-$500!
Don't forget to use Ebates to get 4% cash back
Here is the best deal to spend $10 exactly plus tax and shipping of $5.99!
Yesterday I bought 4 Travel Size Body Lotions priced 2 for $5! I bought 4 of them which is $10!
Pay $10 + tax and shipping for a grand total of $16.62 but I am getting at least $20 in Secret Reward cards! So I made almost $4 on that deal.
These lotions are great to put in gift baskets or give as teacher gifts.
Tomorrow I am going to do the same deal BUT this time I have a $10 Card I received from being on their mailing list.
I will get another $10 Secret Reward card plus 4 more lotions for only $6.xx shipped!
For about $23 I will have $30 in Reward Cards (could be more if I'm lucky) AND 8 bottles of 2oz lotions! I made $7 plus 80 cents from Ebates! Not a bad deal at all!
Let me know your great deals!
*Note: You will have to pay shippping unless you spend $50 or more! USE Code: FREE50 if you do spend more than $50
Use promo Code: 20OFF150 if you spend $150 or more and get $30 off your order!
You can also get Free slippers with any qualifying pajama purchase!
You can get FREE Scarf with any sweater purchase!
Use Code: DOUBLEUP to get Bras Buy 1 Get 1 50% off ends on Wednesday (11/28)
Anything to Add? Leave a Comment!