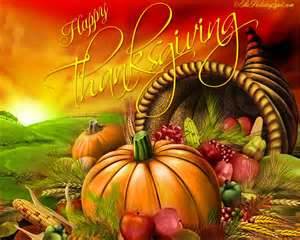 I wanted to wish you and your family a very HAPPY THANKSGIVING from Thrifty Momma Ramblings!
Today is a day to count your blessing and be thankful for all the wonderful things you do have and not dwell on what you don't have.
I am thankful for my beautiful son and wonderful husband, my family, all my friends, and even you my readers! I wouldn't have much of a blog if no one came to read it.
I am extremely grateful for my house and ability to host a wonderful Thanksgiving feast while so many do not or cannot.
I am also thankful for my good health and ability to work from home. I am thankful for the opportunity to return to college full-time to finish my Bachelor Degree!
I am thankful for all the great deals and coupons and freebies that allows me to bless others that need it more than I do.
Take this day to reflect on your blessings and enjoy the day! Try not to overdo the eating though easier said than done!
Anything to Add? Leave a Comment!