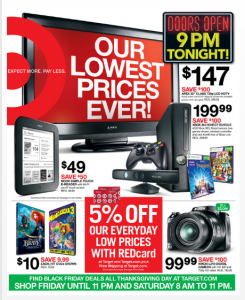 The front and back page of Target Black Friday Ad has been released on Target's online website!
The stores will open at 9PM! You can shop online all day on Thanksgiving and there will be Black Friday sales!
I can't wait to see all the good deals online! Luckily I am hosting Thanksgiving at my house so I will be online and posting great deals while cooking!
I finally had a chance to look through the whole ad! Here are some of the top deals I see so far.
Brave and Madagascar 3 DVD will both be $10!!!
I will wait and buy them then.
There is an Xbox 360 Kinnect Bundle for only $197!
Nikkon Camera for only $97!
Mr. Coffee one cup maker that uses Keurig k-cups for $79.99 but get a $30 Target Gift Card!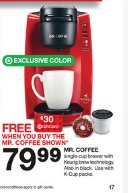 That is a hot price as Walmart has this as a regular price but no extra incentive to buy. I am really thinking of getting this for myself and hubby for Christmas.
Fire pit for only $29.99 Doorbuster! Hot deal!
Kids Plush Pants for only $5 which is cheaper than Walmart's price for $6.
Crayola Art Buckets with the Twistable Crayons for only $6.99!
Dyson Vacuum for only $269!
Toddler/Infant hat and mitten set for only $3!
Kids pj sets for only $5 each!
Men's Fleece pants for only $5 each!
Women's Fleece pants for only $5 each!
Ladies Fleece Gloves are B1G1 FREE and only $3 so a $1.50 each! Great Deal!
Ladies Robes are only $10 each!
Ladies Sleep Tees with socks are only $10 each!
Ladies Suede Boots are only $25 each!

Kids Character Comforters will be $20!
Egyptian Cotton 600 ct Sheet Sets for only $35!
There are also sales on toys like Fisher Price, Nerf, Hot Wheels, Barbie, and so much more!
The back page has a deal to get $10 Gift Card for every $50 spent on Clothing, Household, and such!
This is one amazing ad! I am excited about all the great deals!
Anything to Add? Leave a Comment!