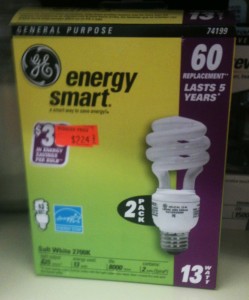 I went to Walgreens today and found an amazing clearance! The GE Energy Smart Light Bulbs were marked down to $2.24 each and I had two of the $2 off Energy Smart coupons. Each pack of 2 was $0.24 cents after coupon! I basically paid 12 cents a bulb! I also found other amazing deals. I found Gum Star Wars toothbrushes marked down to 88 cents for a twin pack! I had a $0.75/1 GUM Star Wars Toothbrush, exp. 9/30/12 (ALL YOU June '12) so I paid 13 cents for two!!!
I also found Colgate 360 toothbrush marked down to $1.15 and with the $1 off coupon I found made it 15 cents!!! Seriously 15 cents!
I also found wooden back scratchers for 25 cents each! I bought several of those as they make great fillers in the gift bags I give at Christmas. They are always asking for them.
Here are a few other great deals.
Cortizone Itch Relief Spray- $2.12 with $2 off coupon= 12 cents!
Johnson & Johnson Red Cross Guaze- $1.25 each x2= $2.50- $1.50/2 coupon= $1.00 on two or 50 cents each!
Dove Hair Gel- $1.25 with $0.75 cent coupon= 50 cents!
I also had a couple more deals. I paid a grand total of $5.67 for everything! I saved over $25 but I don't know what all the retail prices were so I probably saved even more!
I also got back a $2 Register Reward on buying Colgate toothbrushes on sale this week. I found a TMF rebate on the Dickinson's Witch Hazel new facial products. They are priced $2.99 each until June 30th!
Each Walgreens will have different clearance items but you never know what great deals you will find!
Let me know what you find.
Anything to Add? Leave a Comment!