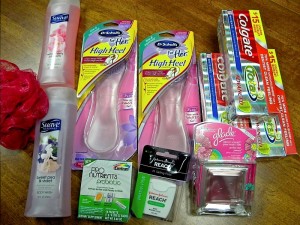 I forgot to get my Free Comet at Target today, but I did save 65% off on 2 transactions at Target today! I had a good haul.
Transaction #1
Bought 2 Dr. Scholl's Flats for Her Inserts ($799 x2= $15.98)
Used (2) $4 off Coupons (given to me) for $8 in Manufacturer
Used (1) $2 off Target coupon so $10 off
Received $5 Gift Card
Total was $6.40 after 5% off red card discount and tax. I am going to give those in gift bags to my nieces. One of them is in Beauty Pageants so she can use this.
Transaction #2
Bought the following:
2 Suave Body Washes- $1.59 x2= $3.18
1 Glade Glass Decor- $2.99
1 Mesh Body Sponge on clearance for 58 cents (reg price $1.99)
3 Colgate Advanced Toothpaste (specially marked with $15 in Colgate/Palmolive coupons)- $8.97
1 Centrum ProNutrients on Sale- $8.99
1 Reach Mint Floss- $0.97 cents
Used the following Coupons–
$2.00 Off Any Glade Glass Decor printable coupon
Stacked with 50 cents on one Glade Spring Decor Target printable coupon
1 $1.00/1 Colgate Advanced Coupon
2 $0.75/1 Colgate Toothpaste Coupons
$5.00/1 Centrum ProNutrients printable coupon
2 $0.75/1 Suave Body Wash printable coupons
1 $1.00/1 Reach Floss coupon I got on a display at Walgreens
Used $5 Target Gift Card
Final Price- $8.84 after 5% red card discount and tax!
I spent a grand total of $15.24 for all that stuff! I mostly spent money on the Toothpaste but to me they are totally worth it! Those $15 off coupons are amazing! Target is the only place I've found them. I have checked several different stores in different locations. I figure I paid $1.99 and $2.24 each but I am getting really great coupons plus a box of toothpaste. So a $1 for the toothpaste and a $1 for the coupons which is much cheaper than ink and paper as well as a newspaper! I am going to use those Softsoap and Irish Spring coupons for next weeks sales! 🙂
Anything to Add? Leave a Comment!